Joggers are a common sight in most Western cities but the running bug hasn't yet come to Baku. Running outside here is still considered quite an unusual thing to do and while the city does have an annual Baku Marathon, which began in 2016 and is organised by the Heydar Aliyev Foundation, this is actually only a half-marathon. So when Visions heard about a barely advertised, full and official marathon earlier in October on the Baku Boulevard, we were eager to find out more.
The race director was Trevor Hill, a London-born ultra-runner who has been living in Baku for the last three years and heads a running club called Baku Runners. Visions met him the week after the marathon and the day before Trevor was due to fly to Thailand to attempt a 166-km ultra-marathon. Over coffee he explained how the little-known Baku Boulevard Marathon came about:
So I was back in the UK last Christmas and I got a random message from somebody on Facebook – "Hello you're the guy who organises Baku Runners, we want to come to Baku and do a marathon. Is it possible?" That was it, is it possible? Trevor recalled.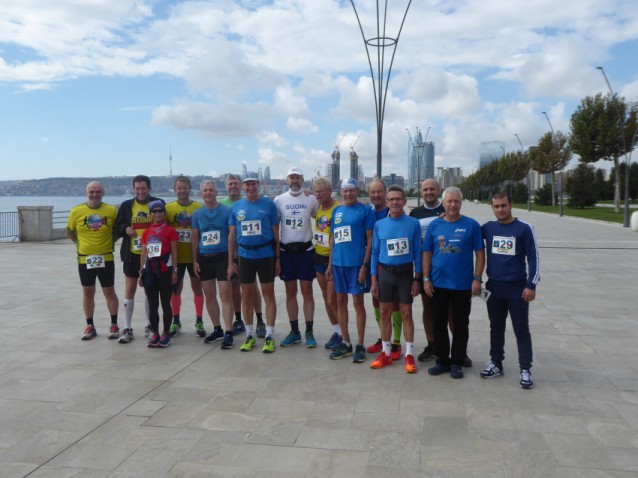 As it happens the message was sent by Jürgen Sinthofen, Vice President for Europe of the elite running club the Country Club, to become a member of which you must have completed a minimum of 30 marathons in 30 different countries. Jürgen was looking to lead a group of veteran marathoners on a running tour of the South Caucasus. So the problem Trevor faced was – how do you turn a group jog into an official marathon? He explained:
So we organised it throughout the year. There were certain criteria we had to hit for it to be an official marathon. Despite what I just said, it has to be open to the public basically, so we basically set a time when we were going to open up registration and make sure all their people were on at that time so they got the first pick basically, and then we started advertising it afterwards.
Limiting the number of participants meant the race didn't need to be officially registered, but this also threw up its own organisational conundrums: Even when we turned up on Thursday morning, we had a little snack table that we wanted to put all the drinks and the food on and the police said you can't do this, and I understand their reasoning – their point was that if they allow us to do it they've got to allow everybody to do it but you know they were really good, they said of course you can run, you know, this isn't a problem.
Prior to this Trevor also had to design a course and chose a new section of the Boulevard near Port Baku because "it's nice and flat" and that's where he takes his running club. Creating a loop there of 4.2 kilometres meant 10 completed laps equalled a full 42-km marathon. The track was officially measured and verified by members of the Country Club and everything was in place by the time 30 or so runners took to the startline on 18 October at 12 or 2pm (the start times had to be split due to runners flying in at different times). And these weren't your average marathon runners:
So some of the guys from the Country Club, we had a guy called Brent Weigner, who's an American who holds the world record for the most marathons in the most countries in the world. I think he's on almost 170 different countries. There was also the lady who's done the most marathons in the most countries. We had people who have run almost over a thousand marathons there […] absolutely incredible people, said Trevor.
In the end the race was won by German marathoner Rico Bogascz who clocked an achievable time of 3:16:58, although for these runners times are very much secondary to location and number of marathons completed. The following week Country Club Vice President Jürgen Sinthofen – who following heart surgery in the summer nonetheless decided to walk the marathon – emailed his impressions to Visions:
As there is no marathon staged in the country we were happy to find in Trevor a race director open to stage a low-key marathon event on the lovely Baku Boulevard. The race was well organised with some unusual specifics to this race: – run completely traffic free; – run 27 m below sea level; – run completely on marble; – run with great views of Baku in sunshine and illuminated.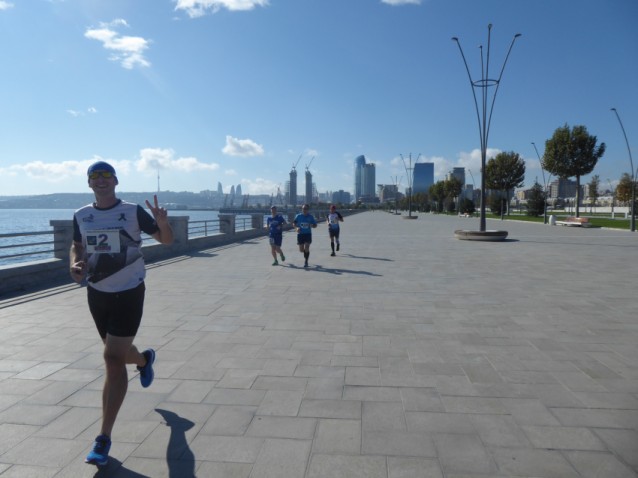 Noting that the runners then set off to Yerevan to complete the annual marathon there, Jürgen added: With this package some runners were able to complete the quest of having run a marathon in all member states of the European Athletics Union.

Yet for members of the Country Club, it's not all about running huge distances. Tackling marathons across the globe is also a way of exploring different countries and cultures and according to Jürgen, the group took a walking tour of Baku the day before the race, followed by an evening out in a typical Azerbaijani restaurant: The feedback from our runners was very positive about Azerbaijan and Baku – very efficient and polite entry checks at the airport boarder, interesting old and new town Baku, very nice food, easy transport with taxis, straight forward and very nice people.... he wrote.
So does Trevor plan to turn this into an annual event? That's the plan, he said, adding: I've been talking to the tourism agency regarding doing something regularly. I think we've shown that there is an apetite for it; we've shown that we can bring people here. Obviously the elites would want a nice big prize at the end of it so it would be difficult to bring them over but I think we can do something annually definitely.
For more on Trevor and his Baku Runners club, stay tuned for an extended version of our interview with him in the next winter issue of Visions.