Wandering about in the district of Baku known as Sovetski, I passed a historical building enshrined in a quiet small alley and noticed there a portrait of a man. To its right was written:

Abdulla Shaig, famous Azerbaijani writer, lived and created here from 1914-1957.

As a literature enthusiast, I became very interested but, attempting to enter, I was disappointed to find that the gate was firmly locked. Just as I was about to give up, I saw a doorbell beside the gate and without hesitation rang it to try my luck. A man opened the door and invited me in, but as it was difficult for us to communicate across the language barrier he asked a girl for help. She turned out to be Elminaz Memmedli, the guide to Abdulla Shaig's House Museum.

What intrigued me most back then was why Shaig's heritage seemed so well protected. Guided by this curiosity, I revisited the museum on recent a spring morning.




A tour of the museum

Situated on the second floor of House No. 21, a historical building constructed in 1905 on Upper Mountain Street (later changed to A. Shaig Street to remember the honourable writer on his 100th anniversary), Abdulla Shaig's House Museum was established by Shaig's elder son – Kamal Talibzade – in 1991 and opened to the public in 2001.

A rich collection of over 4,000 exhibits is spread across the museum's four rooms, displaying the writer's books, manuscripts, photos, event programs and everyday articles like pens, glasses, a passport and watch. As Shaig's former residence, the museum is preserved as it was when he lived here. The copperware in the kitchen, the tableware from Russia, the old radio and the antique mirror all narrate the golden years when he created his major works here and shared his time with his family.

It was here also that he used to meet his friends, many of whom were well known at that time, such as the play-wrights Najaf bey Vazirov and Suleyman Sani Akhundov. A relative of his, the famous poet Samed Vurghun, also used to call in. Sponsored by the Ministry of Culture and Tourism of the Republic of Azerbaijan, the museum charges no fee to visitors and is currently operated by Shaig's granddaughter and the museum's director, Ulker Talibzade.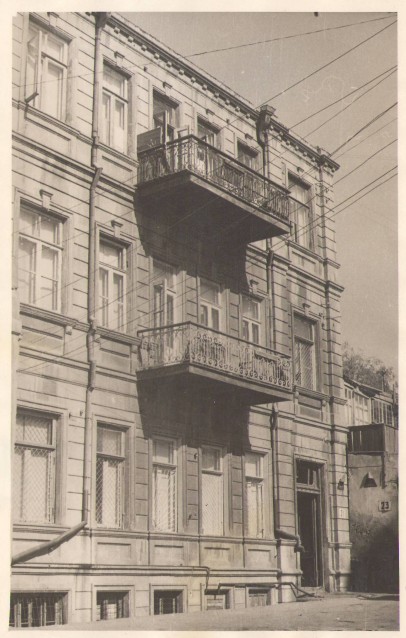 The former living room is filled with objects, photos and documents which together recount the story of Shaig's life from his childhood in Tbilisi to adulthood in Baku. Widely known as a great author, prominent enlightener and cultural figure, Abdulla Shaig (1881-1959) was born in Tiflis to a family from the largely Azerbaijani-inhabited area of Marneuli. Shaig is actually his pen name, derived from the Arabic and Persian word for "light;" his real name was Abdulla Mustafa oghlu Talibzade.


I am more proud of my profession as a teacher than as a writer


His father was an akhund (a type of Islamic cleric – Ed.) and also taught Islamic law, Persian and Arabic at a secondary school. Shaig attended this school in Tiflis and then studied oriental languages and literature in Khorasan, Iran, after moving there with his mother following his parents' separation. In 1901, he moved to Baku and lived in a small apartment in Icheri Sheher (Old City) with his mother and elder brother. After marrying, he moved to the flat that is the current house museum and it was here that his career blossomed.

In its living room hangs a portrait of his elder brother Yusif Ziya Talibzade, who was a heroic soldier and famous statesman, as well as an oil painting of his wife Shahzade khanim by the painter A. Jafarov and a carpet depicting Shaig and his son Kamal.

The former entrance hall is dedicated to the writer's global fame – books written by Shaig were translated into different languages and published in countries all over the world. With a command of four languages – Azerbaijani, Persian, Russian and Arabic – he also translated numerous works of world literature into Azerbaijani, from Shakespeare and Defoe to Pushkin and Nizami. On the wall of this room is also a large portrait of the writer painted by his neighbour and good friend Tofig Kerimzadeh.

The third exposition room mainly covers Shaig's pedagogical activities and his written works of children's drama. As Shaig used to say: I am more proud of my profession as a teacher than as a writer. He devoted much of his life to the cause of national education. After settling in Baku, he became a teacher and worked in education for over 30 years. Following the establishment of the Azerbaijan Democratic Republic in 1918, he became the first person to open an Azerbaijani-language secondary school. He also wrote text-books for children including Children's Eyeglasses and National Reading Book. The walls of this room are decorated by old photos of Shaig, his colleagues and pupils, while the textbooks he authored lie quietly in the cabinet. One could imagine Shaig here meeting his students, giving nuggets of wisdom, instructions and suggestions.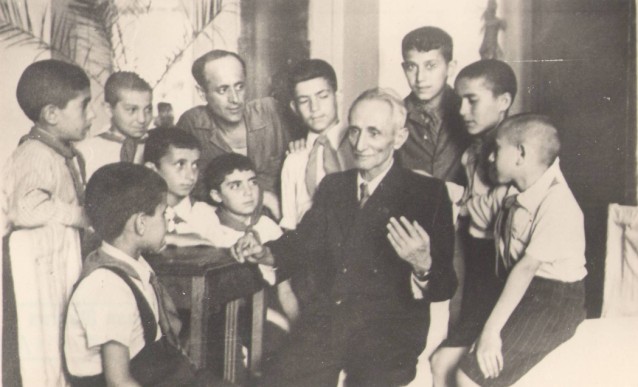 Shaig Abdulla's humanistic spirit is reflected in one of his well-known poems called
We're All Rays from the Same Sun
(1910):
Hey you, damnable mankind,
tyrannizing down through the ages,
Vomiting blood, and only blood!
Did revenge conquer your heart?
Did the hot wind seer your soul?
Are you enraptured with the bloody life you lead?
Humanity has been forgotten, pity!
Take a look back into history!
Burn the mischief, tyranny and discord!
We are all bred from the same nest!
We are all rays from the same Sun.
Languages cannot separate us,
Distance cannot separate us,
Nor can the Bible or Koran.
Borders set by kings cannot separate us,
Nor can oceans or continents,
Vast deserts cannot separate us,
Mighty mountains cannot separate us,
East, South, West, and North cannot separate us,
Enough of perpetrating malice and spite!
Enough of living with outmoded beliefs
Extend the hand of brotherhood to one another.
Band together tightly to destroy the roots of tyranny!
Let love and happiness dwell in our hearts!
This poem was originally published in Azerbaijani in the book Arazdan Turana and was translated into English by Aytan Aliyeva, Ulviyya Mammadova and Aynura Huseinova.


His love for children can also be seen in the folk tales he created for them, which were first published in the local press in 1906. One of the most interesting is named Fox Goes on Pilgrimage about a sly fox that goes on a pilgrimage to Mecca with a group of chickens as repentance for his previous wrongdoings. The chickens believe his lies but eventually become food for the "pious" pilgrim. Visitors can see these imaginative stories illustrated in books, paintings and puppets in the museum, which also hosts occasional performances of Shaig's dramas for events such as Children's Day, inviting local pupils to come and watch. As a measure of his enduring popularity, today the Azerbaijan Puppet Theatre on the Boulevard is named after Abdulla Shaig.

Humanist

Others of Shaig's published poems, stories and literary reviews are displayed in his former study. Many of them shed light on the social and political issues under the Russian Empire during the early 20th century, which meant his work resonated especially in Soviet times. However, like many other literati during the Stalin years, Shaig was also vulnerable to persecution – among his friends were repressed intellectuals such as the poet Huseyn Javid.


In addition to his simplicity, my father was very kind, well-mannered, calm, careful, patient and restrained. All of these qualities stem from my father's love for humanity


According to his son, Kamal Talibzade, writing for the magazine Azerbaijan International, Shaig was also summoned for questioning by the KGB, but was ultimately released and kept out of harm's way thanks to two of his loyal students, Ruhulla Akhundov and Taghi Shahbazi Simurg, who managed to get him a job at the teacher's training college in Shusha in 1932. Kamal writes that shortly after Shaig's death in 1959, he found a stash of his father's poems criticizing Stalin and Mirjafar Baghirov (the Communist leader of Azerbaijan be-tween 1933 and 1953) which were too dangerous to publish until after Azerbaijan regained its independence.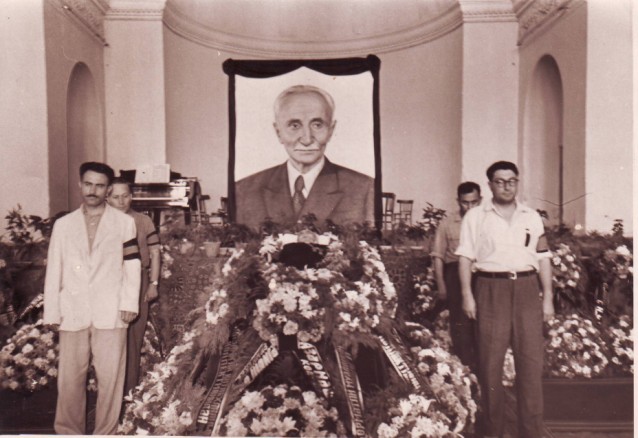 Kamal also recalled of his father: In addition to his simplicity, my father was very kind, well-mannered, calm, careful, patient and restrained. All of these qualities stem from my father's love for humanity. These characteristics, in turn, manifest themselves in his advocacy for democracy and humanism in his work. You can sense it in his works.

Today a new collection in his father's old study is devoted to Kamal, who became a prominent scientist, member of the Azerbaijan National Academy of Sciences and a founder of national literary criticism theory.

More of Shaig's personal belongings are on show here too, and on a television around the corner visitors can watch and listen to recordings of him lecturing Azerbaijani children – the future of the young Azerbaijani republic that declared independence in May 1918.


The antique clock in the museum forever rests at the moment the writer passed away - time is frozen and in this sense he has never fully gone
Following my eye-opening tour of the museum, the friendly staff gave me a booklet and some postcards about Shaig as a special gift for the "first Chinese visitor." When I looked around on my departure and saw the open book on Shaig's desk and the writer's bust at the door, I felt as if the writer had never left. His works are still widely read by Azerbaijanis and worldwide and his spirit remains a source of inspiration not just for his big family but for his nation too. The antique clock in the museum forever rests at the moment the writer passed away – time is frozen and in this sense he has never fully gone.

Abdulla Shaig was buried in the Cemetery of Honour (Fakhri Khiyaban), where his admirers continue to pay homage.


An interview with Ulker Talibzade, Shaig's granddaughter and Director of the Abdulla Shaig House Museum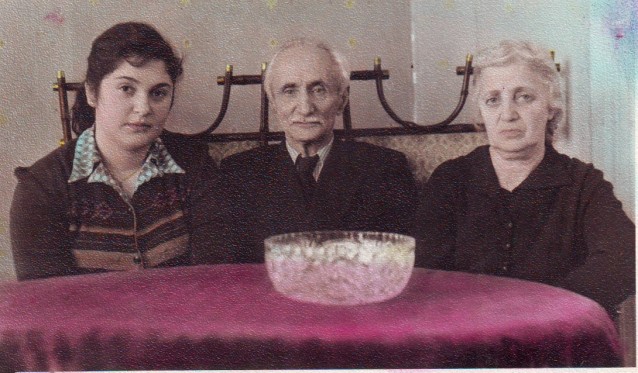 VoA - How old were you when your grandfather passed away? Did you meet him often in childhood?
UT - I was two years old when my grandfather died. I lived together with him. That's why we used to spend a lot time together.
What was your impression of him when you were a child? And what is your impression of him now?
I knew him just as my grandfather in my childhood. When I was at school, I started to find out that he was a good poet. My parents often told my brother and I about grandpa's creativity in his poems and stories.
I love going through the photos taken with him – I've been able to uncover his creative personality. I am proud of having such an interesting and talented grandfather.
I can see that this is a well-maintained museum and Shaig's belongings and works are well preserved. I wonder, how did you achieve this?
You probably know that this museum was established by my father Kamal Talibzade. He did his best for the survival, protection and propagation of his father's heritage. Now I'm also trying to preserve this museum and keep it at a proper level. When the Sovetski district was facing demolition, I called for my grandfather's former residence to be protected.
From the museum tour, I'm amazed that not only Shaig but several of his family members are also very talented and creative in different fields. Do you think this has anything to do with the family education?
Abdulla Shaig is a master of children's literature, the founder of the first children's drama in Azerbaijan, the founder of the first Azerbaijani school with teaching in the native language, a great pedagogue, the author of the first textbooks in Azerbaijan and a public figure with a wide range of activities. He himself has been a great example and influence for us.
I think you must have read many of your grandfather's works. Can you tell me the most impressive one? Why do you like it?
Of course I've read many, but for me the most impressive one is the story named Undelivered Letter. It's about the hard life of workers in Baku at the beginning of the 20th century. Each time I read it, I burst into tears.
I heard that Shaig was once persecuted because of his poems about Stalin and Mirjafar Baghirov. Can you elaborate on that? Are these works published today?
Yes. These poems were found in a secret place after my grandfather's death. And only after our republic gained its independence, my father was able to publish them. These poems were included in a book named From Araz to Turan. The manuscripts upon which the book is based are showcased in the museum collection.
Besides organizing the museum, what else are you doing to protect Shaig's legacy these days?
We have a lot of work to do at the museum. In the meantime, I also attach great importance to his books because books always have long lives – they will pass information on for centuries. Currently, we're preparing a re-publication of Shaig's works, as well as publications of a few academic works about him and some rare books.
About the author: Wu Hui is a teacher of Chinese language at Baku State University sent by China's Science & Technology Institute via the Hanban programme.