Visions meets the award-winning journalist whose three-volume biography of Former President Heydar Aliyev recently saw its English-language launch at the heart of British politics.
31 October

3:01 PM said the screen at Heathrow International Airport, but it was already getting dark and the sky a customary white-grey and gloomy. Catching glimpses of the yellow-orange autumnal trees and cozy lights from the toy-like London houses, it felt almost surreal that we had just flown in from Baku and in only a couple of hours would attend the much anticipated launch of Elmira Akhundova's three-volume biography of Azerbaijan's late president Heydar Aliyev at the Houses of Parliament.
Elmira Akhundova's biography is unlike any other that has been written about him. Over 10 years in the making, each of the three books puts the different stages of his life into perspective; the series is probably the closest thing we will ever have to the former president's memoirs.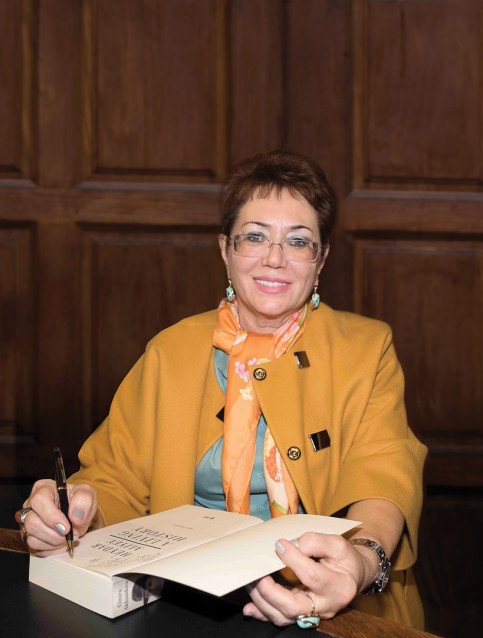 When I was first tasked with editing the series, I remember thinking to myself what a strong woman she must be to take on a project of such magnitude. Even after months of working with the books in three languages, during which I had become so attuned to her voice and to some extent to her as well, it would be dishonest to say I wasn't anxious about finally meeting this respected Azerbaijani MP and journalist.
Her impressive resume includes over 20 books and hundreds of articles and features published in both local and foreign press. But probably the most important part of her resume is the time she spent as a permanent member of President Aliyev's media entourage, accompanying him on almost all of his foreign visits and meetings with international leaders.


Heydar Aliyev
was Azerbaijan's third and most enduring president (1993-2003), under whose leadership the active phase of the Karabakh conflict came to a close, Azerbaijan strengthened its independence and set off on the path to economic success. Even prior to this, in the Soviet period, he achieved more success than any other Azerbaijani politician, having risen through the KGB ranks all the way to the Soviet Politburo.
Along with being an objective biography of a prominent historical figure, it is also a narrative about the whole of the 20th century
Sewing a blanket

The format of her biography itself is unprecedented, as Elmira khanim admits during our interview: to a Western reader, a three-volume biography as compared to a regular one-volume might seem like a very strange format. But along with being an objective biography of a prominent historical figure, it is also a narrative about the whole of the 20th century, and that required a more substantial size.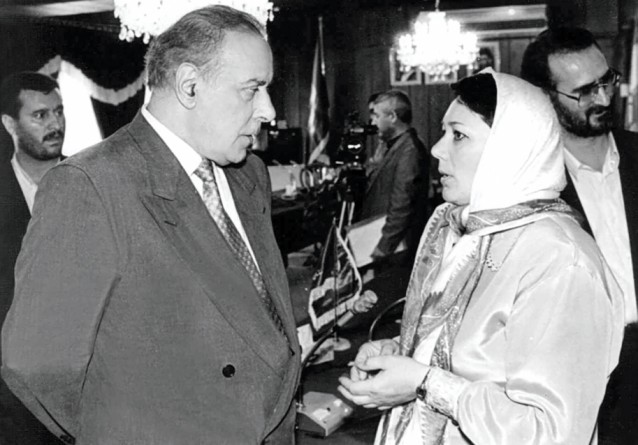 During an official visit to Iran with President Heydar Aliyev, 1994. Photo: courtesy of Elmira Akhundova
Even during the late president's lifetime, some of the country's most famous writers, Elmira Akhundova included, had offered to start working on his memoirs, but he always wanted to write them himself in order, as he said, to clarify the truth. However, due to a constant lack of time, he eventually asked Elmira khanim to prepare a plan for the book, which unfortunately he didn't live to see. Nevertheless the plan became the basis for the research that followed, which turned out to be much greater than anyone ever imagined:
Of course I couldn't have imagined that it would take me 11 years to finish; I interviewed more than 300 people for it. Prominent Azerbaijani literary figures such as Elchin, Anar and Chingiz Abdullayev, admired my ability to unite all those personalities by topics and to reincarnate all those interviews into one work that reads very organically. So in the end you don't get mosaics, you get a whole picture.
Looking back, she admits that this was the hardest part of creating this biography. In moments of desperation and incredible tiredness, she recalls wondering how on earth to weave a narrative from all the material. The books came to life gradually. The original Russian edition turned into six volumes, of which two volumes were launched every two years from 2006, culminating in 2013 with the presentation of all six volumes.
When in 2014 the Azerbaijani translation came out, Elmira khanim had already decided it was time to create, as she says, a version for export. She recalls:
In my acceptance speech while receiving a state award, I made our president a promise to dedicate several years to creating a special, shorter English edition, so it could become a fact of cultural life in other countries as well.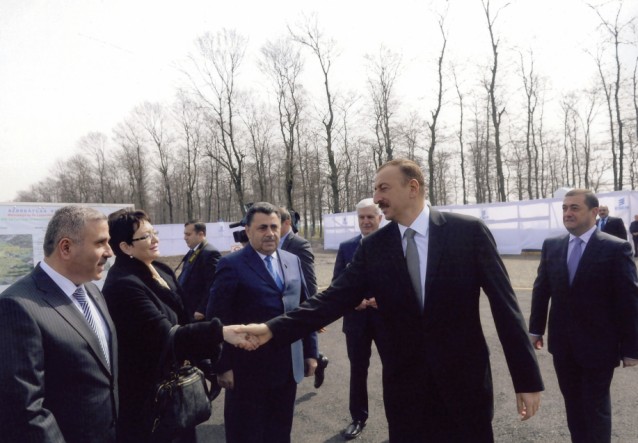 At the opening of the Olympic Sport Complex in the Masalli region with President Ilham Aliyev, 2007. Photo: courtesy of Elmira Akhundova
The books are also currently being translated into Hungarian and there are talks about a Ukrainian version as well. In such a way the biography is acquiring more voices in different languages, narrating more widely the history of one of Azerbaijan's most interesting and researched eras:
In this book, through the personality of the main character, you can trace all the main processes that happened at the time: the collapse of the cult of personality of the 1940-50s, the rebirth of the national self-awareness in the 1960-70s, the fight for the national independence of the 1980-90s, the construction of the new state in the 1990, the reasons for the collapse of the Soviet Union, and the origins of the Karabakh conflict.


Elmira Akhundova's definitive biography:
Heydar Aliyev: a Living History – This first book deals with his upbringing and early career, including his rise through the state security service (KGB) and leadership of Soviet Azerbaijan.
Five Years in the Kremlin – The second volume is devoted to his time at the very top of Soviet government, examining his relations with Soviet leaders Andropov, Chernenko and Gorbachev, and the internal dynamics of the politburo.
Return – The third and final part addresses his rise to power in the newly independent Azerbaijan and the policies and actions, such as concluding a lasting truce with Armenia and implementing a successful oil strategy, that established stability and development in the country.
The books have been published by TEAS Press and are available for purchase in Azerbaijan at Libraff bookstores and www.teaspress.az.

Lifelong mission
Elmira khanim is convinced that by returning to his homeland at the right and most needed time for the country, Aliyev proved himself a creator, as opposed to Gorbachev, who is widely perceived a destroyer in the minds of many across the former Soviet republics, even though in the West Gorbachev's actions are seen more positively, more as a destroyer of the communist system and the Berlin Wall than of an entire country and human lives.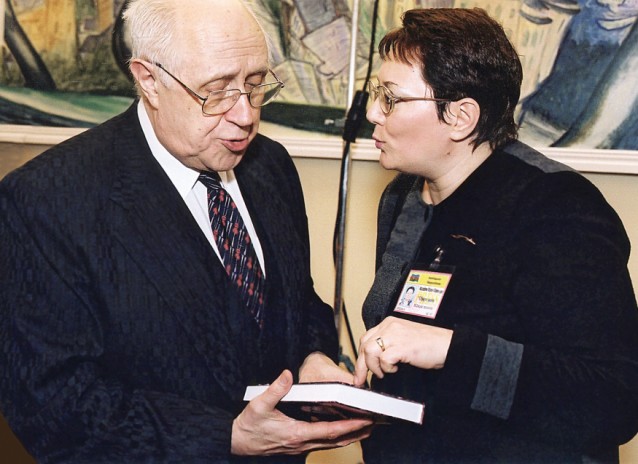 An incredible amount of the books' material was gathered during the months she spent on business trips, meeting and talking with people who worked with Heydar Aliyev – his friends, his foes, politburo members, prominent contemporary politicians and KGB workers. She deliberately spent longer with some interviewees as she felt it might be the last chance to record their stories, given that most of them were well over 80. Sadly, in the 11 years it took to produce the series, more than half passed away.
I ask Elmira khanim if accomplishing this titanic work feels like a duty fulfilled, but very quickly she corrects me, characterizing it rather as "a mission:"
While I was working on the book, I had several questions and tremendous help came from the president himself. He graciously allowed me to work in Heydar Aliyevich's personal archive, in the presidential residence, going through hundreds of folders with correspondence, foreign press reports, unknown episodes from his biography. Ramiz Mehdiyev then passed on to me the words of the president, who said that I had started my mission successfully and need to keep moving forward.
She says she sometimes turns the pages and can't believe it was really her that produced such an extensive work, especially since in 2005 she became a member of parliament, representing the Masalli region (where her father was from), while still actively writing books and producing articles for newspapers each month.
Thinking about it now, I worked at full capacity, like never before. It was like he was leading me from above. I was so inspired, writing like I was possessed, she says.
Even as her husband suffered ill health, she would find the time, despite physical and emotional exhaustion, to produce chapter after chapter, each time amazing her editor, the late Vladimir Morozkov, whose simple human support helped her to persist by making her work feel, as she says, needed, important and interesting.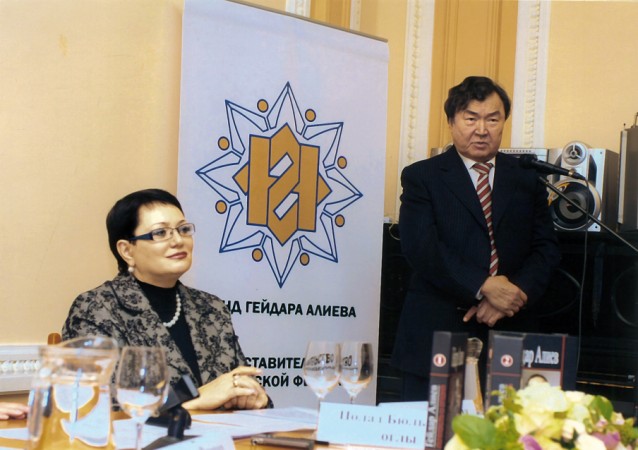 With the renowned Kazakh poet and public figure, Olzhas Suleimenov. Photo: courtesy of Elmira Akhundova
From journalism to politics

Her decision to become an MP herself was also to some extent inspired by the former president. Regarding his influence, she says: I learned a lot from him, but some things you could only dream to learn – his incredible patience for example, or his memory... Those qualities are simply unreachable for us.
Apart from his legendary phenomenal memory, Heydar Aliyev also delivered very powerful speeches. He was an outstanding orator, capturing the audience's attention until his very last word. Elmira khanim includes some of his most effective speeches in the books, which is invaluable in itself, because almost all of them were written and edited by Heydar Aliyev himself, who in drafting them sometimes omitted sleep altogether.
His speeches are an incredible source of wisdom, unique methods of public administration and tolerance. There were two things he did with his speeches and presentations: With his very simple, clear and articulate Azerbaijani, he taught the Russian-speaking Azerbaijanis to speak in proper Azerbaijani.
And second, he taught the world very competently and laconically the essence of the Nagorno-Karabakh problem. I remember, when he was abroad he would take a ruler, go to the map and show where Nagorno-Karabakh and the seven regions were, like a teacher to students. He was explaining the truth about Karabakh over and over again, with every new audience he had to address – to leave at least something in their heads about this subject. And indeed, those truths were heard and remembered by the international community.
Having entered politics herself, she believes that her journalistic past, historical knowledge and research skills are more useful now than ever before. Often criticized for acting too forthrightly (a journalistic trait of hers), like Aliyev, Elmira khanim is nevertheless very outspoken when it comes to imperfections in the country:
Heydar Aliyevich always told his team that we need to talk about the imperfections more than we do about the successes. If we don't talk about imperfections, how can we succeed?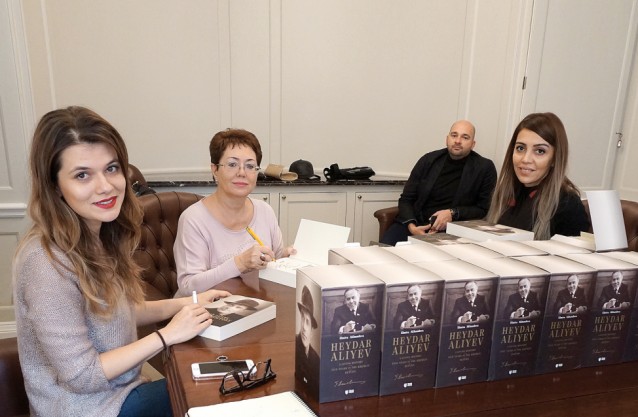 Persistence & patriotism

On the development of journalism in Azerbaijan, Elmira khanim admits that, while it has come on leaps and bounds, there is still a long way to go to reach today's requirements of international journalism. Apart from basic concepts such as objectivity, truth and constant self-improvement, she believes that Azerbaijani journalists first and foremost need to be patriotic and love their country:
Even if you criticize, you need to do it with love for your country, taking care of its future.
As our conversation drifts further into contemporary social issues, I cannot miss the opportunity to ask this successful Azerbaijani woman for her take on the status of women in the country. By becoming the first woman to be elected as a representative of Masalli, a very religious and conservative region, Elmira khanim has set an example that it's quite possible to overcome prejudices and stereotypes. So what's the secret?
Persistence and faith in yourself, despite the unfortunate fact that in order for a woman to get to the same position as a man, she needs to work ten times as hard. We have to be more talented, more knowledgeable, more professional, so that we are noticed and promoted.
And she has a message for men:
Don't be afraid of successful women. Help your wives, your female friends to move forward, to succeed in careers. Because next to every successful woman, there should be a successful man supporting her. My husband has been by my side in all my aspirations. It is so important.
Once asked by the famous Azerbaijani writer Anar how many more years she would write about Heydar Aliyev, Elmira khanim replied: Probably for the rest of my life. The former president was indeed an incredible individual, as Roy Medvedev put it: a person in four dimensions.
His personality was so deep, his legacy so vast that finishing his portrait would be an almost unattainable task as there will always be new details to add. Years after his passing, he is still alive in people's hearts and minds, as Elmira Akhundova's biography eloquently reflects.