It's rainforest!... Here?!... In Azerbaijan!?! Technically speaking my fellow hiker wasn't quite right, but the effect was not far off. We were walking through a quite extraordinary woodland where virtually every tree was thickly festooned in mosses, like bright green cotton wool spun from softened emeralds. The silence was broken only by the sound of woodpeckers and the numerous modest rapids cascading down the small river below. Where the stream flow calmed, water took on the slightly surreal blue translucence of paraffin. I had been half a dozen times to the Astara region of southernmost Azerbaijan, but this was my first glimpse of one of the region's great unknown wonders – the mossy relict forests of the Hirkan National Park.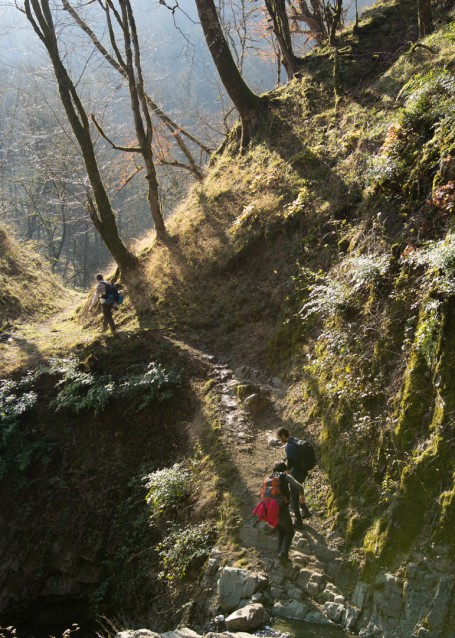 Day one in the forest - the hiking is relatively easy in early spring with a few steep ascents the only major challenge. A month earlier, however, in February, the path was reported to be very muddy. Photo: Tom Marsden
I'd come with a group of 15 casual hikers. Leaving Baku at dawn, the initial five-hour drive on the main road south was a tad bumpy but, as we could see from several sets of almost finished roadworks, this route will soon be much faster with the imminent openings of impressive-looking new Salyan, Masalli and Lenkeran bypass motorways. From Astara, the minibus headed west on an idyllically quiet country lane. This ran so close to the border wire that we could peer down onto rice paddies on the Iran side and see the holiday traffic jams across the valley on contrastingly busy Iranian roads. We disembarked at Istisu, a very low key hot springs area where naturally heated water feeds bathing booths in makeshift tent huts, along with more impressive wooden chalets at a newly built timber mini-resort area.
this was my first glimpse of one of the region's great unknown wonders


Pre-organised by the ever helpful folks at Camping Azerbaijan (see Camping Azerbaijan: Hiking and Homestays in Quba with Javid Qara in the November-December 2015 issue of Visions), a gaggle of grizzled Niva drivers were waiting to transfer us the last 7 km to Zunguldash where the hike was to begin. But not until we had enjoyed a splendid lunch of pickles, dolma, fish and chicken levengi with our host and guide-to-be, Babakhan. Nicknamed the "Leopard Man," his story has been widely told – a former hunter who ended up wrestling with an ultra-rare Caucasian leopard that he had initially set out to kill. The tables turned but due to a lucky fall, Babakhan not only survived the ordeal (just), he also had an epiphany and turned from hunter to great leopard protector.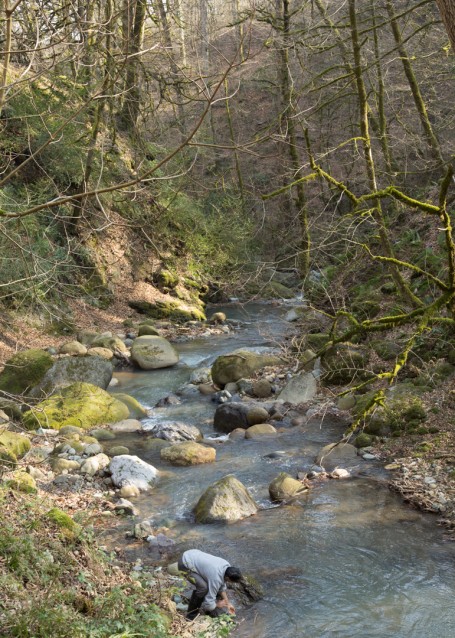 Our guide Babakhan washes his hands in the river, along which the path traces its route on the first day. Photo: Tom Marsden
He is the star of the classic National Geographic film World's Most Wanted Leopard (www.youtube. com/watch?v=Oy8Fz4gZNXg) and still sets camera traps, but remains incredibly modest of his fame and still bounces through the forest like a human Tigger. I remember seeing a photo of Babakhan in Visions' June 2013 edition, lazing casually on a forest branch as though he himself were a big cat. That's no cameo – as we set off so, every now and again, Babakhan would shimmy straight up a tree, swing like a monkey from limb to mossy limb, and wave joyfully at the astounded walkers as he lay back as though to sleep on a branch. And all in Wellington boots.
For the first afternoon we followed a helpfully clear forest footpath approximately paralleling a gentle-flowing river. The route seemed surprisingly well-trodden for the remoteness of the area – that's because the trail is still the main access route to reach a couple of tiny, roadless settlements. First of these, reached after a couple of hours strolling, was Dilmen with a tiny if recently restored wooden shrine to Sheikh Dilman, a holy man who was supposedly the founder of a madrassa (Islamic school) here centuries ago when the hamlet was far bigger than its present four houses. At the foot of the settlement, Babakhan revealed the mossy remnants of a millrace and the spot where an old millstone was still visible – at least once the covering disguise had been removed. Half an hour further, it was almost dark when we stumbled into the bigger eight-house settlement of Siyov where we were planning to sleep, but only after a wonderfully offbeat Novruz evening of feasting then jumping over a bonfire in the iridescent forest-filtered starlight.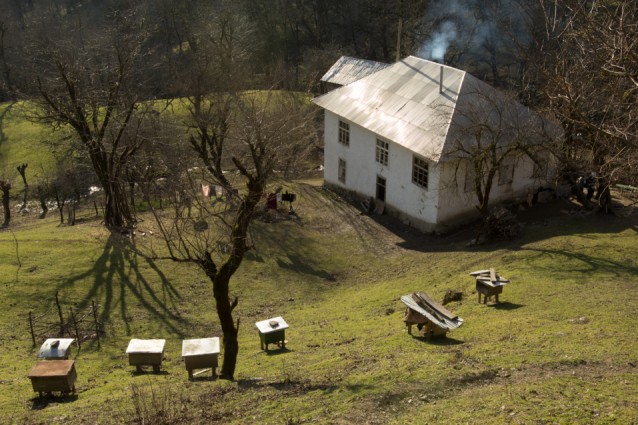 A typical house in the village of Siyov. Beekeeping is the village's main source of income and the honey is gorgeous. Photo: Tom Marsden
In the Stalin era, the villagers from Siyov, and other villages in what is now the national park area, were forced to relocate to the plains. Just a few sneaked back some years later. The result, our homestay host explained, is that they never became fully legal residents. That means that they don't have property papers for their land – and there are strict limits on what renovations they are allowed to perform on their beautiful old homes. They have no electricity unless they lug jerrycans of petrol up on horseback to run a generator. But for the hardy villagers, it's worth the rigours of life up here: things are peaceful and the honey that they produce as the main cash crop is second to none.
The first afternoon's hike had been relatively straightforward. Barely 9 km, the route was easy to follow and, apart from a couple of streams to hop across (beware of slimey stepping stones), the walking was a delight – apparently a big change from a few weeks earlier when rain had turned the earthen trail into a hellish slither of muddy slipways and deep bogs. If you're coming this way, do be sure that it has been dry for a while. Next morning, brilliant sunshine filtered onto the widely scattered houses, each in their own sloping swathe of hive-dotted grassy clearing. The scene was made even prettier by clouds of white plum blossom. Battered cooking utensils from our Novruz dinner lay drying on a wooden bench outside fashioned from rough-cut wooden planks, and the tiny trickle of stream flowed through a wide riverbed dotted with huge mossy rocks.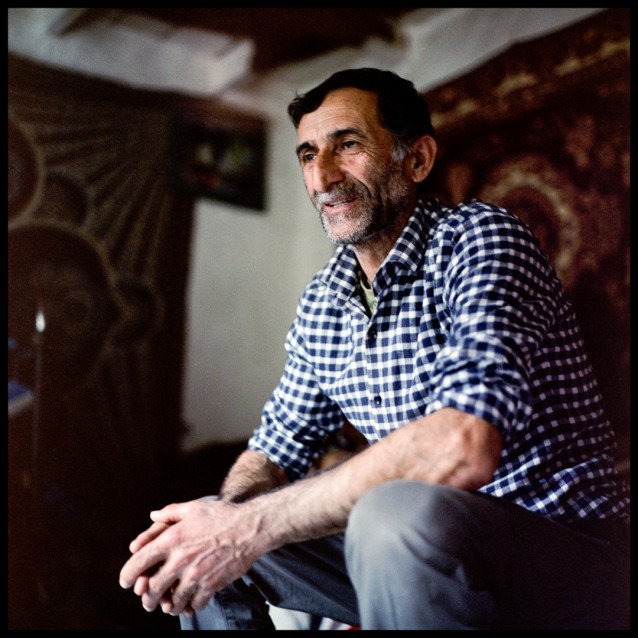 Babakhan "the leopard man" at home in the forest. Photo: Tom Marsden
The path leading north
 from Siyov remained relatively
 straightforward albeit rose ever
 steeper through still-mossy woodland that was well-spaced enough 
to let the light flood through. After a couple of hours it reached
a ridge-lip. From here I could
 clearly see the houses of the large, 
historic village of Sim through the 
trees far below (for more on Sim
 see Five New Routes into the Talysh Mountains in the September 2015 issue of Visions). The descent looks dauntingly steep but apparently it's not as hard as it looks and the great discovery of a Sim-to-Istisu link had me scribbling frantically in my travel notebook. But our group was planning to do something else – heading to the right on the blunt "blade" of the wide, knife-edge ridge. This must rate as one of the loveliest sections of forest walk anywhere in Azerbaijan.
This must rate as one of the loveliest sections of forest walk anywhere in Azerbaijan


Although viewed between mossy trees, there are views both north to the Talysh Mountains rising above Palikash, and south, across the beautiful bowl of woodlands, towards Gelindash ("Wedding Rock") a distinct if distant crag on the horizon in Iran. Except for the still-luxuriant mosses, the beech and maple trees here have the feel of a European deciduous woodland, and the carpet of copper leaves made for pleasant walking. However, they also hid the trail in certain places and a couple of unexpected descents had me worrying about how I'd describe the route to those less adept at GPS readings. Fortunately after a couple of surprise turns we were descending once more on a long, clear track, well-used by residents of Piyakanarud. Piyakanarud, Pi-ya–ka-na–rooood intoned Babakhan mellifluously like a sufi poet. But don't say that name seven times in a row or you'll never be able to say anything else!... Then suddenly he was gone – bouncing off to singlehandedly attack a smouldering hillside that threatened to turn into a forest fire.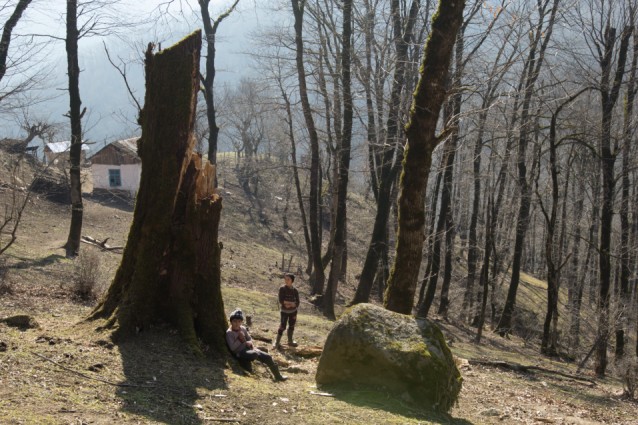 In the thick of the forest near the settlement of Piyakanarud. Photo: Tom Marsden
Piyakanarud is not so much a village as a series of lonely farmhouses dotted about in small garden-clearings, and for several kilometres we kept coming across yet another. At one, we were given tea and delicious fresh tandir bread straight from the clay oven. Then as legs began to tire and the sky started to darken, one more tea stop appeared at the bottom of a long descent with a glorious old fashioned wooden barn-kitchen flanking a muddy farmyard.
It was almost dark once again by the time our weary group found themselves back on the mossy riverside approaching Zunguldash like hobbits returning to a homely Rivendell. And all agreed there really had been something quite Tolkienesque about the whole experience.
About the author: Mark Elliott is a travel writer who has been covering Azerbaijan since 1995. The fifth edition of his guidebook has just been published this year.