Paris-born, Nairobi-resident David Coulson is the personification of a true British adventurer. Having originally made his name in photography and published many books, he is chair of the Nairobi-based Trust for African Rock Art (TARA). Over more than 25 years, he has dedicated his life to discovering, researching, photographing, analysing and preserving rock paintings and engravings – examples of ancient rock art – from around the world, but with special emphasis on the rock art of Africa.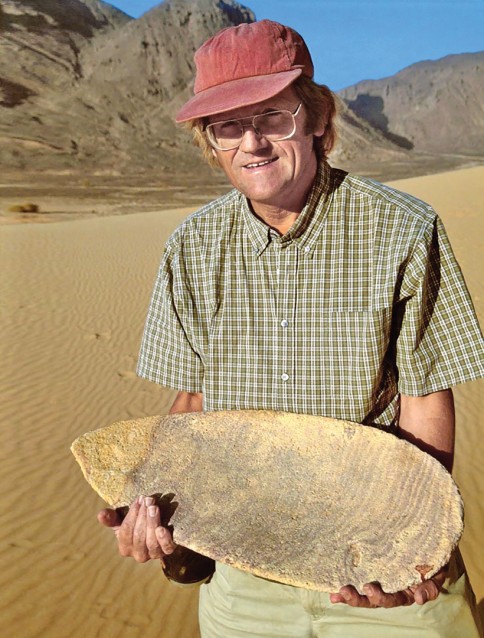 Qobustan National Park – officially known as the Qobustan Rock Art Cultural Landscape – is a mountainous territory located on the southeast end of the Greater Caucasus mountain ridge, mainly in the basin of the Jeyrankechmaz River. It is riven with deep ravines, known as gobu in Azerbaijani, from which its name was derived. In 2007, it became listed as a UNESCO World Heritage Site due to the estimated 6,000 petroglyphs (rock engravings) on its rocks and caves, which cover 537 hectares. These were incised and painted on the rocks between 5,000 and 40,000 years ago. David was excited to visit the site, and Neil Watson met him following a public presentation he gave in Central London:

VoA - How did you come to visit the petroglyphs in Qobustan?
At the time, I was representing Africa and working with the UNESCO World Heritage Centre. This led me to become exposed to rock art from around the world. The first images I saw of the Qobustan petroglyphs intrigued me a great deal. They resonated for me, as they reminded me of the petroglyphs I had seen in North Africa. I then came into contact with Linda Lawrence, who was an English teacher in Azerbaijan at that time, and she suggested that I should visit the Qobustan National Park in 2008 with the support of the Anglo-Azerbaijani Society. Later in London I was introduced to the Azerbaijan ambassador to the UK, who enthusiastically invited me to visit Qobustan.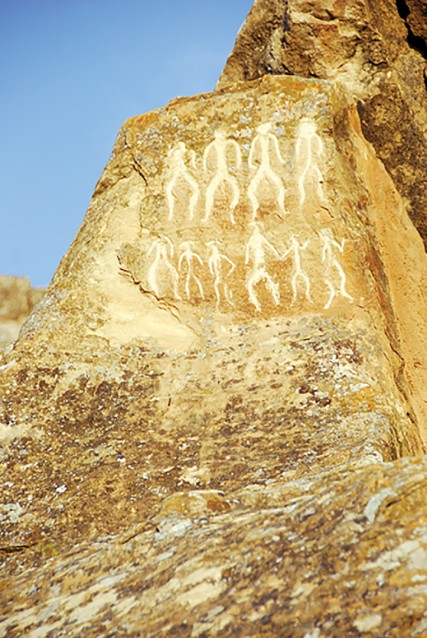 It was only a two-day visit, hosted by Dr Malahat Farajova, director of the Qobustan World Heritage Site, but it was an amazing experience. The park contains some extraordinary petroglyphs, some of which are reminiscent of the Saharan art that we have documented. It is undeniably true that petroglyphs are often found near the junction of trade and migration routes. As we all know, Azerbaijan was on the Silk Road, assisted by the fact that, around 30,000 years ago, both the Caspian and Black Seas may have been both connected and therefore navigable. I estimate that some of the art could be of that age, which would place it amongst the world's oldest rock art. However, currently there is some scepticism amongst scholars over this fact, as Soviet archaeologists had a reputation for exaggeration. There is therefore great scope for an authoritative, substantiated study of the Qobustan petroglyphs.
In my view, this could easily be undertaken by a team of experts, led perhaps by an internationally-respected expert with dating expertise, either from France, the US or Australia who have a number of such experts. If this initiative were undertaken, other experts around the world would take the dates suggested by local experts more seriously. It is quite possible that the suggested age is correct, but it needs to be authenticated.


How would you describe the petroglyphs of Qobustan? What technique or style do they exhibit?
An immediate observation is that there are many petroglyphs that are more akin to carvings than engravings. This might be indicative that they are older, particularly as they are in an exposed environment. Rock engravings can endure much more weathering than paintings that are therefore usually found in more protected locations like shelters or shallow caves. Many of the carvings depicting aurochs (extinct species of bison), stags and other animals on the Jingirdagh Mountain are extremely ancient and deeply engraved, but their age remains guesswork until verified. In comparison, many of the engravings found in Africa are stylistically different and many are much more recent.



It was relatively easy for the artists to carve the rock, which is derived from lava, and thus akin to that found in parts of the Sahara and elsewhere in Africa. The rock is very similar to sandstone, and relatively smooth when finished by the elements. It would be useful to know the age of the volcanoes in the region. I suspect they are far greater than 30,000 years old, but this needs to be established.


There are many hundreds of petroglyphs in Qobustan. For example, you can find up to a hundred on one large boulder, albeit some images are extremely small. During my visit, I only saw two major sites, but there was undoubtedly much that I did not see. Without doubt, the right guides could take us to many sites in Qobustan that are not part of the UNESCO World Heritage site itself. I am hopeful that, in the Soviet period, some scholars charted details and took photographs of every petroglyph. There is definitely scope to produce a modern book, or series of books, that would adequately detail all the major petroglyphs. Ideally, they need to be introduced in the context of petroglyphs found across Europe and Africa, but also in relation to those in countries in the same region, such as Kazakhstan and Iran. I am also certain there is scope for the production of a wonderful documentary film, or series of films, to attract tourism.
What are your thoughts on the theory by Thor Heyerdahl, allegedly supported by petroglyphs in both Norway and Azerbaijan, suggesting that Scandinavians sailed to Azerbaijan?

I have read about the migration routes, and it is possible that this is correct, but by no means certain. In Heyerdahl's view, the petroglyphs indicated that the boats used by the Scandinavians and Azerbaijanis were somehow related, but the boats were also similar to those in Egypt. To be honest, we are discussing the events of around 25,000 years ago, so we can only surmise on the basis of the artists' impressions of the environment and everyday life, as demonstrated in the petroglyphs. Certainly there are some similarities between these and the style of the petroglyphs found in Europe, and many show wildlife and nature that is similar to that found in the Europe of the time as well as North Africa and Asia.
Do the Qobustan petroglyphs feature any mythological beings?

I do not currently have
the local expertise to really
comment, but it is likely that
this is the case. There is undeniable veracity to the viewpoint that petroglyphs have a spiritual basis, in a broad sense. This is often related to Shamanism, so there are frequently depictions of real animals believed by the artists to have special powers. Others may be mythical animals, connected in vanished mythologies with rainfall, and sometimes there are symbols that may have been connected with fertility. I remember seeing some images of human figures in Qobustan incorporating zig-zag lines. Similar designs/symbols are found in different parts of Africa and other ancient cultures, and may be representative of power, as was the eland (antelope) for the Bushmen of Southern Africa.

Aurochs enjoyed a very high status, perhaps because they represented an abundance of food for past peoples, and that is why they are frequently portrayed, and potential interpretations made. However, it is important to be careful when doing so, as petroglyphs often relate to civilisations that disappeared millennia ago and were, of course, not recorded. Just because petroglyphs might signify one meaning in Africa, France or other parts of Asia does not necessarily determine that they mean the same in Azerbaijan.

Petroglyphs are not normally representational art, and were not necessarily created for artistic reasons, as we understand them. Instead, they probably resulted from a need for spiritual expression. Certainly, Southern African Bushmen may have inscribed their art on rocks to ensure their own cultural continuity, perhaps teaching successive generations about their glorious past and the richness of their mythology.
Aurochs are often found in Azerbaijani petroglyphs, and I saw one in Qobustan over which a stag had been superimposed. This is similar to what we see in Africa, where a giraffe might be superimposed over a lion or an elephant, for example, perhaps because the artist wanted to harness the power of the animal underneath. The prehistoric artists may have believed there to be power in pre-existing paintings because of the significance of those animals in their own mythologies.

What is the condition and preservation state of the petroglyphs?
The petroglyphs were generally in good condition, and I only remember seeing one disturbing case of graffiti or damage, probably because Qobustan is located around 40 miles from central Baku and was, until the 20th century, relatively difficult to access. However, one notable exception to this was an inscription on a rock at the foot of the Boyukdash Mountain, left by the Roman Thunderbolt Twelfth Legion in the 1st century AD that is the most eastern evidence of Roman occupation in this region.

The Soviets also played a role in the site being recognised as being of special interest in 1950 and being recognised as a National Historic Landmark of Azerbaijan in 1966. It is important that petroglyphs do not attract too much of the wrong attention and end up being excised from the rocks upon which they were engraved thousands of years ago, as many are located on sites that were sacred to the peoples of the time. Also, the positioning of the petroglyphs reiterates that, even at that time, Azerbaijan was central to trade routes dating back to prehistory. An authoritative, richly-illustrated book could be spectacular and serve to boost awareness of the petroglyphs for experts and tourists alike. Such a project would need a corporate or government sponsor. In 2009, I was involved in producing a book on the UNESCO World Heritage Site of Lamu Island, which is part of the Lamu Archipelago on the Kenya coast and the oldest continually inhabited town in the country. It was the book that helped transform it into an international tourist destination.
I very much look forward to returning to Azerbaijan and to having the chance to authoritatively study and record these extraordinary petroglyphs at greater length.
To find out more about the Trust for African Rock Art (TARA), visit www.africanrockart.org. For more on Qobustan, visit www.gobustan-rockart.az.

About the author: Neil Watson began working professionally as a journalist in 1995 and became editor of his first magazine in 2000. He worked as Editor and Press Officer for The European Azerbaijan Society (TEAS) for nine years.