Wu Hui has been exploring a historical district of Baku which sprung up during the first oil boom and is currently undergoing a complete regeneration...
One summer evening I passed Sovetski again. Everything was more cleared up. A gust of wind with yellow sand engulfed whatever was blocking its way, leaving nothing but vast emptiness. Cars soared past me and one shabby jeep, which I thought should have long ago expired, stopped by, kindly suggesting a ride. Its trunk was wide open due to being overloaded and its wheels were seemingly falling apart from their life and death struggle with the gravel on the ground. I waved thank you and politely declined. Sorry, but I would like to have a moment of peace with the days gone by. Nobody should interrupt. Things became a little blurred in swirls before my eyes. Something was brewing and about to blast into new life. I didn't know exactly what it was.
I waited for it.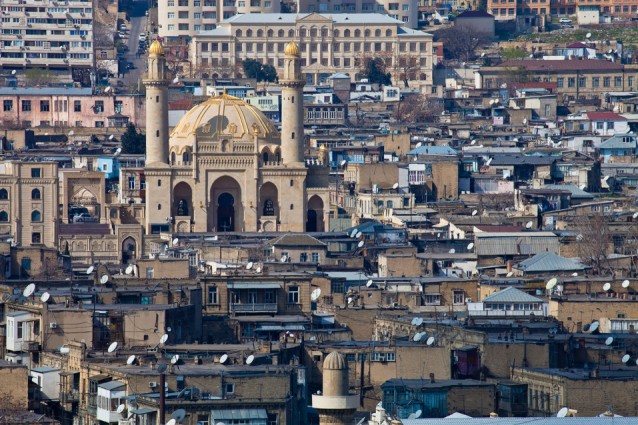 Eight months earlier, shortly after I came to Baku, my friend who had arrived prior to me was warning: There's a district near our apartment through which we could go to the 28 Mall as a shortcut. But bear in mind that it's a dangerous area. Never risk walking there alone, especially as a foreign girl.
So I made a detour each time I went to the 28 Mall until one day I got lost roaming about and ended up in a bleak area. I took a photo aimlessly. To my surprise, it showed an ambience identical to an American Western movie – a beauty of ruins. I posted it on my Instagram page and someone commented that it was Sovetski. For the first time, this name emerged clearly and vividly in my mind. Connecting the scene with my friend's words, I murmured to myself, so THIS is Sovetski.
Strangely, I became interested in it ever since then. As I began to explore this area, I found the inner section surprisingly idyllic despite the thundering road rollers and sand storms a stone's throw away. As I took tentative steps to peep into the yards of the locals and their daily lives, residents invited me for a cup of tea and tried talking to me in their languages instead of accusing me of illegal trespassing. I was touched by their kindness and trust in absolute strangers. I became a regular.
Relics & regeneration
Today Sovetski, named after Sovietskaya Street (now Narimanov Avenue) which ran through the district in Soviet times, is widely associated with the huge regeneration project that has been ongoing since 2014, in accordance with the 2011 general development plan of Baku. This aims to get rid of the haphazard one- and two-storey buildings that until recently sprawled across Sovetski for several dozen hectares and replace them with new roads and parkland. The idea is to let the city breathe and improve traffic in central areas, but as a consequence local residents have had to resettle away from the city centre and some historical buildings have disappeared.
The most significant of them, however, have been preserved and, unsatisfied with the bare statistics I found while researching online, I decided to search out some of the old relics myself, based on pictures and addresses.
Hidden in the narrow alleys of Mukhtarov Street, the House of Agabala Guliyev was registered as a national architectural monument by the Cabinet of Ministers of Azerbaijan in 2001 and currently serves as the office building for the Azerbaijan Union of Architects.
Under the new socio-economic conditions of the oil-boom period of the late 19th century, it became fashionable to introduce different shades of European architecture in Baku and the national-romantic style began to take shape.
Agabala Guliyev, one of the leading entrepreneurs of Baku at the time who often travelled to Western Europe, protested against the European styles being applied in urban buildings and invited the Polish architect Yevgeni Skibinski to design a house in the national style.
The staircase in the building, built in 1899, opens to a well-arranged, dreamy interior with semi-circular arches. An oriental theme is noticeable through the wall patterns with their giant geometric shapes, the Arabic and Turkish ornaments, the fireplace with white ceramic tiles and the magnificent carpets. A portrait of Agabala Guliyev can still be seen on the second floor.
There, I also had the great honour to meet Mr Elbay Kasimzade, Chairman of the Azerbaijan Union of Architects, who briefly recounted the history of the architecture in Sovetski.
Most of the buildings in Sovetski were constructed during the oil-boom period (1872 – 1920) when the city expanded beyond the boundary of Icheri Sheher [Old City - Ed.]. As a result, the influence of European architecture is obvious in these buildings although the national elements are also preserved.
During that period, the majority of the upper class lived in the higher region of Sovetski while the middle class lived in the lower part. Many great architects left remarkable imprints in Sovetski; among them were Jozef Ploşko (Polish), Jozef Goslawski, Nikanor Tverdokhlebov and Zivar bey Ahmadbeyov.
Faith & water
Sovetski is also home to a number of historic hammams and mosques. Just under a dozen 19th-century hammams were located here, as well as seven mosques in total, several of which I visited. One of them stands majestically along Mirza Fatali Akhundov Street and is named Teze Pir Mosque. With its golden structure, both the dome and the two minarets are easily seen from a distance.
Sponsored by the female Azerbaijani philanthropist Nabat khanim Ashurbeyova, the construction of this mosque started in 1905 but was suspended following the patron's death, resuming with the generous support of Nabat's son. Shortly after its completion in 1914, however, the mosque closed following the October Revolution and later functioned as a cinema. In 1943, it was renovated and made into a mosque again.
Another religious monument lies several streets lower, on Zargarpalan Street. This white-walled building with a silver cupola is the Church of Michael the Archangel, which was built in the early 1840s and is the oldest remaining Russian church in Baku.
Also of historical interest are some old water towers. Situated on the dry Absheron peninsula, Baku was long plagued by a drinking water problem until, at the beginning of the 20th century, the Shollar water pipeline was constructed, directing water from the Caucasus Mountains to Baku.
Nowadays three Shollar water towers remain in Sovetski from which people used to fetch their water. These towers functioned until the 1950s but are no longer in use today. I found one at the intersection of Salatin Asgarova and Abdulla Shaig streets. Its blue window and door were locked. The whole structure resembled a small mausoleum with a dome on top.
Overall, according to Minister of Culture and Tourism Abulfas Qarayev, speaking in December 2014, 118 of Sovetski's significant sites will be preserved as museums and monuments. These include house museums of the renowned figures that once lived in the area, such as the children's author and teacher Abdulla Shaig and the writer, satirist and former chief editor of Molla Nasraddin, Jalil Mammadguluzade.
Meeting local residents
As I carried on my research, I felt a strong impulse to connect with the local residents since each individual is an essential component of the local culture. For the convenience of doing interviews, I asked my student Jamal Agazade to be my interpreter.
With a wide knowledge of history and geography, he resembles an Azerbaijan encyclopedia to me. As I made my request however, the smile suddenly disappeared from his face. Sovetski? It's the cancer of Baku! Why are you interested in that area? He asked, his eyes wide open – I forgot to mention that he is a bit of a cynic.
I explained to him, referring to the district's history, old buildings and hospitable people. But history is the past and hospitality is our tradition, he interrupted, Look at it now! The houses are on the verge of collapse yet people still don't want to move. Sovetski is a hinder to urban construction and a threat to public security. I shall never go there, you neither! But ultimately he consented unwillingly to my request.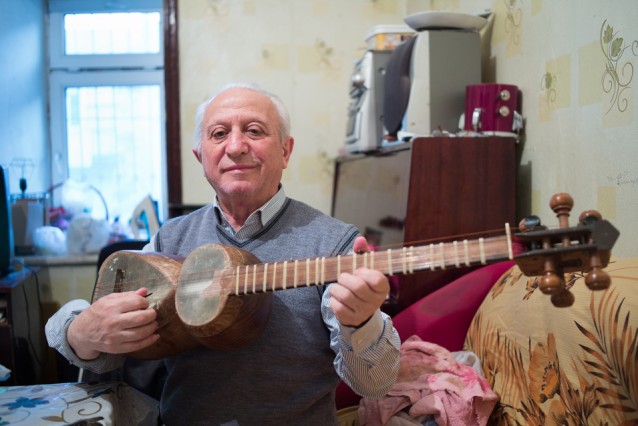 We walked randomly for a while under the scorching sun until finally I decided to seek shelter in a shaded courtyard. An old lady and an old man were sitting there doing nothing – a typical Azerbaijani way of relaxing, in my eyes. We said "hello" and Jamal started a conversation with the lady. Talking for a while, both of them paused, so I asked him to interpret.
She doesn't like it here at all. The houses are old and small. They are nearly falling apart. He said briefly. Is that all? I asked; I want to hear her voice instead of yours. So he reluctantly added some new information while still in his indignant mood: the houses were already 200 years old. The woman had been living there since 1938, when she was born. Her husband was 86. She had a sister who lived alone in the neighbourhood and her daughter came to visit from time to time.
Are they happy living here? I asked. Of course not! Jamal promptly replied. Ask them please. I urged. He did what I demanded and then told me that the lady was satisfied with the living conditions in general but the only problem was that the house was way too small. She had three sons and the oldest had already reached the age for marriage. Without a separate wedding room, however, nobody would marry him. So the woman hoped that the old house would be demolished and they would receive the reallocation compensation (1,500 AZN per square metre according to local media reports – Ed.) for a more spacious one.
The woman served us tea. I detected something suspicious drifting in the water. Seeing their hospitality, however, I finished it. Then we carried on our exploration by waving goodbye to these friendly people.
For some time, there was nothing but silence between Jamal and I. We passed a mosque and stepped inside. The sun hid behind the clouds and it cooled down a little bit. He told me something about the religion and the madrassa nearby. Jamal, you know, I am now a journalist. I need to be objective. I want to see and hear the facts. Can you understand? I explained, before we moved on. He nodded.
As we quickly passed an old building, I 
glimpsed a man standing in front of a door 
wearing a faded indigo shirt, trousers and 
silver necklace. He was swiping his phone 
swiftly while smoking elegantly, a sense 
of solemnity on his face. He worked in 
the media and shared the building with 20 
other people who were his family and friends. It had a history of 205 years.
I was born here and have so many good memories in Sovetski, he showed us around his courtyard and said, revealing a smile that was barely visible on his face.
During Novruz, we gathered in the yard and jumped over the bonfire for good luck in the upcoming new year. The mosque was nearby and the whole family always went there to pray together. Everyone was familiar with each other in the neighbourhood and as soon as someone got sick, all the others went to see him with medicine and regards.
I love living here, he later added, life is convenient in the city centre. We are close to the metro. The building was built with big stones and won't fall down. If it isn't demolished, I'll never move out. I felt heartbroken to see all the buildings being torn down, not only because of my childhood memories, but also because, when our future generations ask us about our history, we don't know how to answer without them.
Shall I meet you again sometime if I have further questions? I asked. You may come anytime within two months. After that, I will probably have to move out, he answered.
I went back after the summer vacation, months later. That area was already razed to the ground and the man was nowhere to be traced.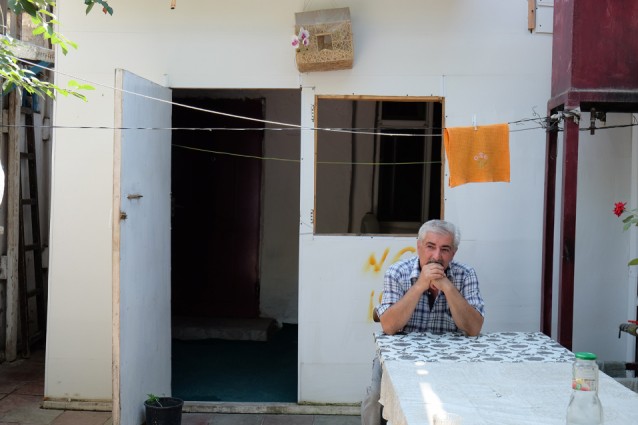 Sovetski as it is
People carried vegetables and fruits coming back from work, smiling at us as they passed by. Some even said "hello" to us in Chinese
Having met the man in the indigo shirt, we sat on a big stone for a rest. A woman was watching her child playing nearby with two other kids. My son attends school in the neighbourhood. Life is convenient here. Just the houses are too old. We would love to continue our life here if the houses could be renovated, the woman told us.
It was getting dark then. The gleam of the setting sun reflected across the pink cheeks of the frolicking children. People carried vegetables and fruits coming back from work, smiling at us as they passed by. Some even said "hello" to us in Chinese.
Have you changed your view on Sovetski after today's interview, even a little bit? I asked Jamal. Yes, he smiled, looking into the far distance. I smiled too. I felt a sense of relief. Stereotypes usually stem from ignorance. If I could change the prejudice of even one person, it is worthwhile. My ultimate goal in doing the research and writing this article is simply to allow more people to see Sovetski as it is.
Currently, construction of the roads is mostly done, making it quicker to get from A to B in the city centre. Trees are set to be planted on 23 hectares of land to improve ecological conditions there too and the second phase of redevelopment will begin soon with more old housing to be cleared between Nariman Avenue and Qutqashinli Street. And even though by 2030, according to the 2011 plan, Sovetski should be well integrated into the contemporary 21st-century face of Baku, I am pleased to have discovered this unique neighbourhood as it once was.
About the author:
Wu Hui is a teacher of Chinese language at Baku State University sent by China's Minnan Science & Technology Institute via the Hanban programme.