Olia Hercules was born in Kakhovka, southern Ukraine, and moved to Cyprus at the age of 12. After completing school, she relocated to the UK, where she studied Italian Language and International Relations at the University of Warwick. Upon her return to the UK, after a year abroad in Italy, she achieved an MA in Russian Translation. She then went on to become a film industry reporter for Screen International.
Having developed an interest in cookery, Olia completed a course at Leith's School of Food and Wine in 2008, thereafter working as a chef de partie in various restaurants, including Ottolenghi. Olia is a mainstay of the BBC TV programme Saturday Kitchen, and was listed as a Rising Star by The Observer in 2015, following publication of her first book Mamushka (not an actual word, just an amusing dance from the film The Addams Family), comprising family recipes from across the former Soviet republics – including Azerbaijan. She has just published her second book, entitled Kaukasis, which focuses on food from the Caucasus region. Neil Watson spoke to Olia in London to find out more:
VoA - What originally stimulated your interest in cookery?
OH - My interest in cookery dates back to my studies in Italy. Every Italian student I knew could cook, particularly the boys, and such simple dishes as spaghetti, good olive oil and sea urchin captivated me. Such cuisine made me realise that, with just a few simple, yet good, ingredients one can produce something spectacular in the kitchen that was very similar to what we ate in Ukraine. When I returned to London, the "foodie" atmosphere was reaching its Zeitgeist and sucked me in.
Having grown up in Kakhovka, Ukraine, were you exposed to cuisine from the Caucasus?
Yes! My Aunt Nina grew up in Baku, and we went to visit her during the 1980s. My father lived there for a year when he was younger. Aunt Nina introduced many Azerbaijani and Armenian recipes to our repertoire. My mum also regularly cooked some popular Georgian dishes, such as chicken tabaka and kharcho.
Your first book, Mamushka, covered recipes from a range of former Soviet republics, including Azerbaijan. Which Azerbaijani recipes did you include?
I certainly experienced and enjoyed plov, with a tasty gazmakh crust, and lamb cooked in its own juice with dried fruit and nuts (and lots of clarified butter!), yoghurt soup and a few other dishes.
Azerbaijani food is so varied and fascinating
It is often said that Azerbaijani cuisine is the best-kept secret of the country. Why do you think this is the case, and why is it so delicious?
I am not sure why it's a secret! I hope this is no longer the case! But, of course, many of the Soviet countries experienced unfair criticism of their cuisine, as Soviet food itself was not good at all. Azerbaijani food is so varied and so fascinating. The cuisine from the chestnut forests in the north differ considerably to that found near the Caspian Sea. Its diversity is staggering, given the size of the country, and the range is extremely appealing. The amount of clarified butter used is amongst my favourite features, as are the herbs. Indeed, any cuisine where aromatic soft herbs are king should be unmissable. Furthermore, the pickled savoury cherries and grapes were a complete revelation to me.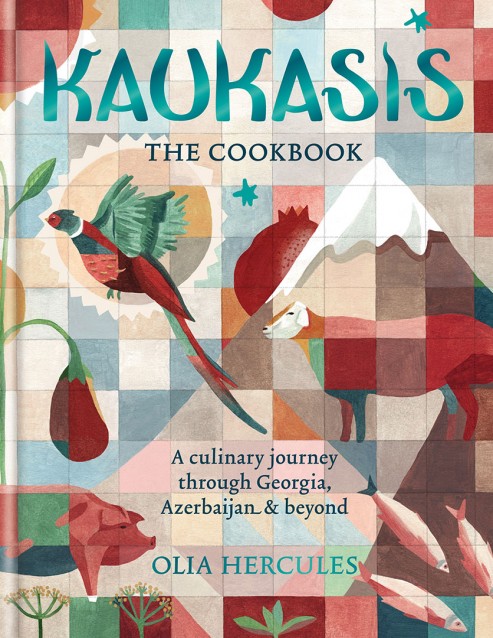 Is it easy to source all the ingredients used in Azerbaijani cuisine in the West?
All ingredients are available in the West, other than very specific ingredients, such as turshu plum paste. However, it is not overly difficult to make this, or to substitute with tamarind paste. Just hit a good Persian or Turkish grocery store and you are there.
Your latest book is entitled Kaukasis. Which Azerbaijani recipes does it include?
The book contains quite a lot, including lesser-known dishes, such as serdakh (an aubergine and tomato dish in clarified butter), various plovs, khalva khasan triangles, two versions of levengi fish, two types of dolma, khanuma soup, dyushbere, kuku, qutabs, turshulash, lule kebabs, pakhlava and many more!
How would you say that Azerbaijani cuisine differs to the other national cuisines covered in the book?
In my view, the clarified butter aspect and use of reyhan (purple basil) is very specific, as is the use of kurdyuk (tail fat) – I wish I could have included a grilled kurdyuk and potato skewer recipe – it's incredible! It also has many delicious links with ancient Persian cuisine, to a greater extent than the other cuisines featured in the book.
What is your favourite Azerbaijani dish, and why?
Khingal, which is a crispy lamb and pasta dish with a yoghurt sauce, ranks amongst my favourite dishes. It is simultaneously moreish, fresh and comforting, and is a treasure. It also ranks amongst the most popular dishes included in Kaukasis – I keep being tagged in Instagram posts where people state that has become a family favourite. This includes readers in the UK, US, Poland, Canada and Australia.
Its diversity and colour has much to say for itself, and should be celebrated worldwide
Do you feel there is potential for an authentically Azerbaijani restaurant to be opened in London?
This is absolutely the case. I don't love the word "authentic" myself, as I believe traditions can coexist very well, being actually aided by modern elements or by local ingredients, but there is definitely space for an excellent Azerbaijani restaurant that uses great local ingredients. This is part of the strength of Azerbaijani cuisine, as it features fantastic vegetables and meat, good spices and saffron, and well-made clarified butter. If you can combine it with the excellent local ingredients that we have here, you are on to a winner.
Do you have any plans to write a cookery book specifically focusing on Azerbaijani cuisine?
Perhaps in the future – yes of course! In my view, writing a proper regional Azerbaijani cookery book would not go amiss in this world. As I mentioned, its diversity and colour has much to say for itself, and should be celebrated worldwide.
For more information on Olia Hercules and her book Kaukasis, see www.oliahercules.com.
About the author:
Neil Watson began working professionally as a journalist in 1995 and became editor of his first magazine in 2000. Most recently, he spent nine years as Chief Editor of TEAS Magazine.