OPEC (the Organization of the Petroleum Exporting Countries) is scrambling to reassert its role in the oil market in the face of growing threats from US shale oil. It expects the global oil market to be balanced this year, as producers continue to trim production following the 2014 market crash and achieve a market balance between supply and demand.
Oil producers from OPEC and non-OPEC countries struck a historic deal in December 2016 (the Declaration of Cooperation) to cut output by 1.8 million barrels per day, following a surplus in crude supply that sent prices crashing in 2014. An agreement with 10 non-OPEC members, including Azerbaijan along with Bahrain, Brunei, Equatorial Guinea, Kazakhstan, Malaysia, Mexico, Oman, Russia, Sudan, and South Sudan agreed to reduce output by 558,000 barrels per day starting from 1 January 2017 to drive oil prices higher after a period of steep plunge.
As a consequence, countries whose economy is heavily reliant on oil revenue suffered economic problems, including Azerbaijan. Compliance with the cuts hit 133 per cent in January, exceeding the percentage required in the deal. Oil prices have rebounded to around $70 a barrel as a result of this policy and cooperation between oil producers reached levels that were above expectations. The high level of compliance in maintaining production cuts witnessed by OPEC and non-OPEC members has been the main driver behind the strong recovery in the price of oil.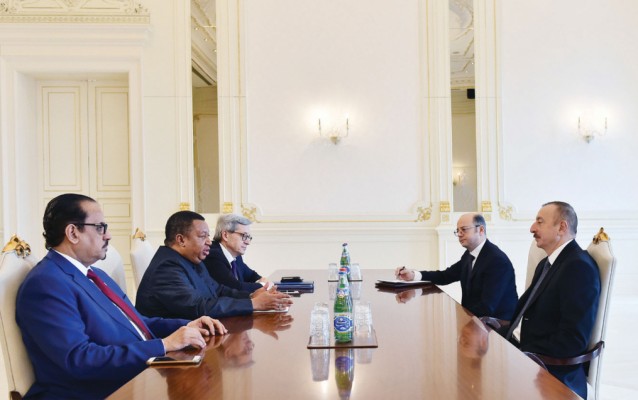 But the production cut that boosted the oil price ends this year, and some OPEC officials are concerned it will not be extended. That has left OPEC looking for ways to broaden its reach in more formal ways. The next meeting of OPEC and non-OPEC oil ministers is set for June, where the ministers may adjust the agreement based on current market conditions.
OPEC has added two new members in recent years – Gabon and Equatorial Guinea, extending its membership numbers to 14 countries. The Republic of Congo said it intended to join this group of the world's major oil-exporting countries at its next meeting in June 2018. South Sudan and Uganda have also said they would like to join, citing OPEC's role in stabilizing once free-falling oil prices.
Azerbaijan would help broaden OPEC's appeal beyond recent recruits from Africa and cement its relationship with former Soviet Union producers Kazakhstan and especially with Russia, which has emerged as a key broker for the non-OPEC group. OPEC has enjoyed a good relationship with Russian President Vladimir Putin.
I am confident that with you serving at your country's helm, this great golden era of OPEC-Russian cooperation can extend for years and decades to come, wrote Secretary-General of OPEC Mohammad Barkindo in his letter to President Putin, congratulating him after his re-election in March this year.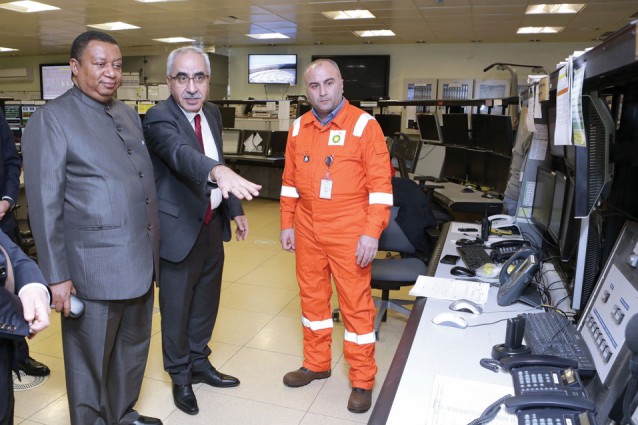 Azerbaijan visit
Now OPEC is holding talks with Azerbaijan about the country entering the organization as a full member. In light of this, OPEC Secretary-General Mohammad Barkindo visited Baku from 17-19 March, holding talks with Azerbaijani President Ilham Aliyev and Energy Minister Parviz Shahbazov. Mohammad Barkindo stressed that President Aliyev has played an extremely constructive and important role both in securing the adoption of the Declaration of Cooperation, as well as its ongoing successful implementation. He noted that Azerbaijan has consistently been one of the highest performing participating countries in terms of voluntary production adjustments, always exceeding one hundred per cent conformity.
At a briefing after the meeting with Energy Minister Parviz Shahbazov, Secretary-General Mohammad Barkindo said OPEC and Azerbaijan were thinking about how to upgrade relations beyond rebalancing the oil market. All options – OPEC membership, becoming an associate member and continuing cooperation the way it is now – are under consideration.
We share the same views, we share the same perspectives, we share the same interests and Azerbaijan has been fully implementing decisions that we have been jointly taking together. The producers' alliance between OPEC and non-OPEC, is now emerging as a permanent feature on the global energy scene that would serve as an insurance for stability [in the oil industry], said Mohammad Barkindo.
Visit to Sangachal
With the balance returning to the oil market and demand picking up, the energy sector would require hefty investment in the near future by international oil companies as well. Given this, it was a great honour to show OPEC Secretary General Mohammad Barkindo the Sangachal terminal during his visit to Baku in March. It is the "beating heart" of Azerbaijan's, and indeed the region's, oil and gas industry and the biggest BP-operated onshore asset worldwide.
The bus tour to the terminal operations site, Baku-Tbilisi-Ceyhan head pump station and Shah Deniz phase 2 commissioning area gave the head of OPEC a wider understanding of the nature and scale of BP activities in the region.
At the end of the bus tour we took our distinguished guest to the control room to give him a clear picture of our operations at this biggest strategic hub for the Caspian, which unlocks offshore reserves and delivers hydrocarbons to world markets. OPEC Secretary General Mohammad Barkindo shared his impressions and gave extremely positive feedback of what he had seen at the terminal.
Later, I found a quote of his in the Wall Street Journal, citing Azerbaijan's oil firsts and highlighting the importance of the huge developments here for energy security and stability in the world: Azerbaijan is considering all options to further strengthen its relations with OPEC. I believe that, as the cradle of the oil industry (the first oil well was drilled in Baku in 1846 – Ed.) the strategic interest of Azerbaijan lies in OPEC, said Mohammad Barkindo.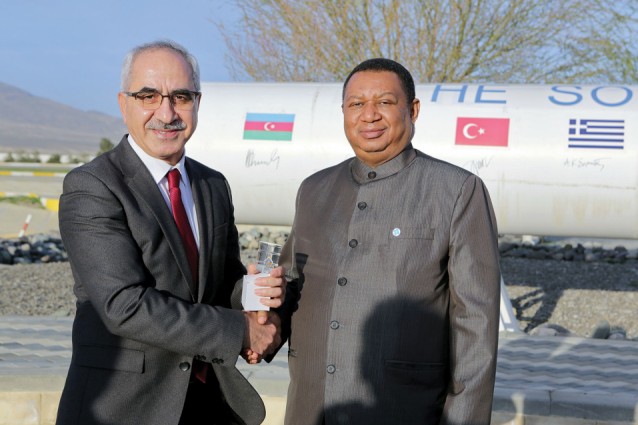 Azerbaijani interests
The aim of OPEC is to provide stable prices on oil for member-countries by controlling the prices through quotas, creating a favourable international political and economic environment for the smooth operation of the oil business. But it is also commonly argued that the quotas are barriers for member-countries to making larger profits. Members with smaller production have to meet the set standards, which may become commercially unviable for those that are dependent on oil for a long time.
Azerbaijan's aim is to transform the role of petroleum in international relations from fueling disagreements to oiling cooperation
Azerbaijan understands that reliance on hydrocarbons, which have the capacity to decline, is not a sustainable model. Today Azerbaijan is becoming a transit hub on China's new Silk Route. The opening of a new railway last October connecting Baku to Kars in Turkey and further to the Balkans means that the shortest route between China and Europe now runs through Azerbaijan. The EU and China are two of the biggest traders in the world. In 2017, bilateral turnover between them was more than €573 billion. More than 90 per cent of that trade currently goes by sea, which takes twice as long. Another route, the North-South transport corridor, is expected to link Central Asia, Russia and Eastern Europe soon, passing through Azerbaijan. The country started by tapping its rich natural resources underground. Now it is latching on to its most valuable above-ground asset: geographical location. But one thing is clear in all this: Azerbaijan's aim is to transform the role of petroleum in international relations from fueling disagreements to oiling cooperation.
Postscript
A month after Mohammad Barkindo's trip, on 23 April the energy news website platts.com reported that Azerbaijan is not after all considering joining OPEC. According to Energy Minister Parviz Shahbazov, the country is happy with the current "close and fruitful" cooperation.
About the author:
Guivami Rahimli joined BP in 1995 as government relations expert. Since then he has held various managerial positions and currently serves as Senior Government Affairs Advisor for BP Azerbaijan, Georgia and Turkey region. He is also an associate professor at the faculty of international relations at Baku State University, lecturing in energy security and multilateral and regional diplomacy.