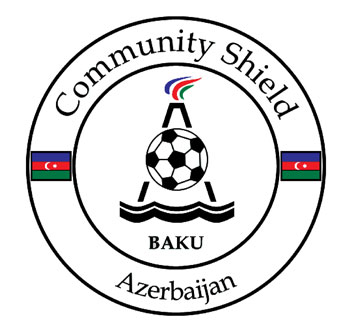 COMMUNITY SHIELD AZERBAIJAN (Baku), or CSA for short, was established just over three years ago by a group of volunteers, some of whom had been involved in helping the 40 or so residents at the leprosarium in Umbaki on an individual basis. As some of the money came originally from expat football activities, a football was incorporated into CSA's logo. Although CSA was established initially to help the leprosarium, it soon expanded into other areas and, since its inception, the charity's activities and projects have changed the lives of many people.
UMBAKI LEPROSARIUM
CSA is still very much involved in the leprosarium. In the last three years all residents have been given new living conditions and now have a comfortable and decent place to live. In addition, new bathroom, laundry and toilet facilities have been installed and CSA continues financing their quarterly .
GIZILDASH ORPHANAGE
The orphanage for teenagers at Gizildash was in an appalling condition and much-needed improvements to their basic facilities, including completely new electric wiring, were undertaken. This work continues unabated as windows and floors need to be replaced.
Besides the renovation work, CSA considered the improvement of the youngsters' personal lives a high priority. There was nothing for them to do all day and job prospects were non-existent.
With the help of AZETA, the Azeri English Teaching Association, a group of volunteers visit Gizildash twice a week to teach the young people English. Six computers and numerous fruit trees were donated and a gardening project was initiated. The gardening project serves not only to give the children something to do, it also makes them responsible for the planting and growing of the vegetables and fruit trees, provides them with fresh produce and even some income. The orphanage is associated with a vocational college where the school-age teenagers get their education. The college has a woodwork and sewing workshop. CSA secured paid work to make beds and duvets for other institutions and employment in Baku was found for six residents. In addition, arrangements were made for one young woman to have an operation to surgically correct her eyes.
REST AND LABOUR HOME FOR DISABLED YOUNG PEOPLE
For the last three years CSA has been helping this home for the disabled with the marketing and sales of their handicrafts. CSA provide them with the materials and ideas, talented ladies make the products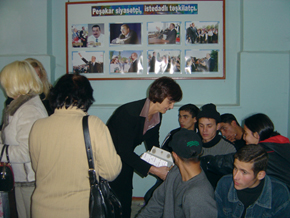 and CSA sell these products at coffees and bazaars, thereby generating a steady income for the residents. Any profit is returned to the home in the shape of new heaters or beds. At the height of the construction period of the Baku- Tbilisi-Ceyhan pipeline, the ladies made 5,000 industrial sunhats.
CHILDREN'S WARD AT PSYCHIATRIC HOSPITAL NO 2
CSA has helped to create a children's ward at the psychiatric hospital in Baku. The facility is also used for twice weekly therapy sessions for adults in arts and crafts and music.
SHUVELAN SANATORIUM FOR CHILDREN WITH RESPIRATORY PROBLEMS
This sanatorium was in a very poor condition and a complete overhaul of their facilities, including two classrooms was undertaken.
MEALS FOR THE ELDERLY AND HOMELESS
In September 2005, a centre was opened where the elderly and homeless can come for a warm meal. This is a combined project with the Caledonian Society and the Humanitarian Society of Jewish Women. The centre is open six days a week and caters for at least 25 people a day.
SHELTER FOR STREET CHILDREN
Renovations were made at the shelter and once a week a group of volunteers have arts and crafts sessions with a group of street children. Other help such as clothing is also offered.
HOME FOR THE BLIND
Two toilet rooms and one shower room were installed in the home for the blind in Baku. The building houses many families, some of whom live four to a room.
LOKBATAN SANATORIUM FOR CHILDREN WITH HEART PROBLEMS
This renovation project was started in April of this year and new amenities will become available to these children by the end of the summer.
TRANSITIONAL HOME FOR ORPHANED GIRLS
CSA is looking into the possibility of building a transitional home for teenaged girls who have to leave the orphanages at the age of 18. Whereas the boys will go into the army, the girls have nowhere to go and a half way house to prepare these institutionalized girls for society would be a good solution to a big problem.
MATERNITY CLINIC
Thanks to donated baby clothing, we were able to start a new scheme: providing a starter pack of baby clothing to poor mothers when they leave a local maternity clinic.
SPONSORS
CSA does a lot of fundraising, be it through coffee mornings, lunches or bazaars. However, all these projects would not be possible without a considerable contribution from many sponsors, representing a wide range of nationalities. We are grateful to our sponsors; we certainly could not do without them.
AMEC
Anglo-Azerbaijani Society BP and its employees Bhoys of Baku Caledonian Society CDC and its employees Irish Society Netherlands Tains Wee Helping Hands