In November 2017, the Visions team visited Goychay in central Azerbaijan for the annual Pomegranate Festival. The economy of Goychay revolves around this fruit; the Executive Authority of the region estimated that this year's harvest was 50,000 tonnes. Much of the harvest is exported to Russia, Ukraine and Georgia. The festival began on 3 November with official speeches and contests (Largest Pomegranate, Most Beautiful Pomegranate Girl, etc). Visions joined the festivities on 4 November, when tour buses brought in groups from Baku and other regions for the celebration.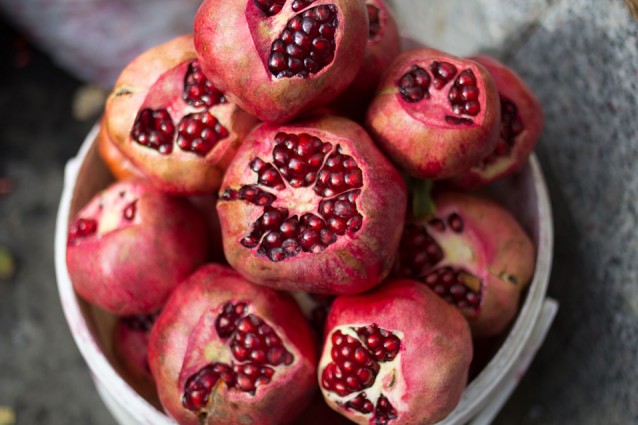 In praise of the pomegranate
Entering Goychay, I wasn't sure whether to bow my head in reverence or to gape at the repetition of the one theme that runs through the city's veins. There are probably more pomegranate symbols in this city than I have blood cells in my body. The whole place feels like a shrine to the mighty pomegranate. The main street is lined with cement pillars topped with basketball-sized pomegranates painted red. Every roundabout is permanently adorned with some form of giant stone pomegranate at the centre. Flags printed with pomegranate pictures fluttered above the streets for the holiday. But then we arrived at the festival itself. To say I've never seen so many pomegranates in my life would wildly understate the situation.
There are probably more pomegranates in the city than I have blood cells in my body
The festival was set up around a full city block and an additional straight stretch of the main street, Heydar Aliyev Prospect, in downtown Goychay, which was more city-like and charming than I expected for a regional centre. The streets were lined with tables where schools, institutes, villages, and businesses displayed their abundance of pomegranates. There were baskets of different types of the fruit itself, labelled by variety. Residents handed out cups of seeds and plastic spoons for tasting. Jars with large labels introduced various pomegranate products like juice, wine, jam, and nar sherab (salted ground pomegranate preserves often served with meats and on fish). Seeds in different colours had been arranged in clever patterns and glued onto dolls in place of clothing, like ruby red dresses. Many of the stands featured cakes in the shape of pomegranates or decorated on top with seeds. Someone had painstakingly stabbed individual pomegranate seeds with toothpicks to make a firework-shaped bouquet. That work of art was left anonymous, but the author is surely walking around with very stained fingers.
One of the booths was decorated by Rakshana Hamidova, an English teacher at a village school who makes handicrafts as a hobby. She showed us an entire cornucopia of cotton-stuffed fruit she had crocheted with yarn. She said if she is in the right mood, she can fire up her crochet hook and churn out a pomegranate in an hour.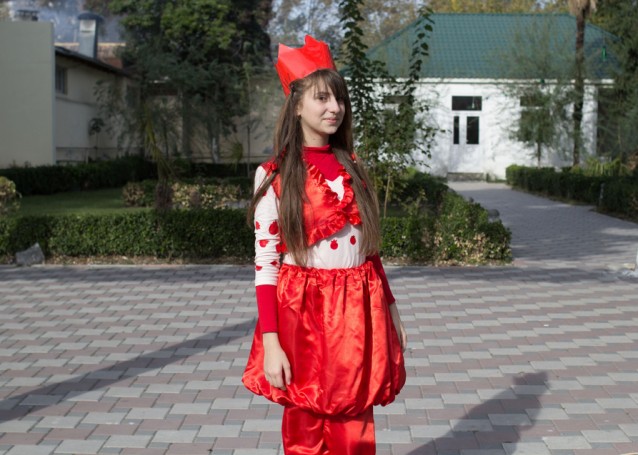 It makes sense in Azerbaijani
If you are feeling tongue-tied from reading the word "pomegranate" over and over, blame the French. Their preponderous historic term "pomme-grenade," meaning seeded apple, is much easier in Azerbaijani: here the fruits are simply called nar. (Somehow it feels more reasonable to organize an entire festival around that one very manageable syllable.)
Some of the displays at the festival also seemed to make more sense in a local context than they do now that I am trying to describe them in English. There were mosaic projects made by gluing glass beads and the stony pits of pomegranate seeds onto buta (paisley)-shaped cardboard backgrounds. There were pomegranate-shaped potholders, still life paintings, and ceramic pomegranate souvenirs which seemed to be selling especially well. There was a woman at a loom making a normal patterned carpet – I had a hard time finding the connection at first, but then noticed her side display of little mini carpet samples with pomegranate pictures. She told me she came from Baku and married into a Goychay pomegranate family, and now she teaches carpet making to kids in the region. Their favourite subject to weave is, of course, the pomegranate.
And the population's love for the fruit was palpable during the festival. There were crowds so thick it was hard to move in any direction; the Goychay Executive Authority reported that 30,000 people came to the festival. Our team decided on a meet-up point if we got separated (which we did): the giant inflatable pomegranate-shaped tent of the Nar (remember?) cell phone company, which was on the scene selling sim cards. Fitting.
The entire festival pulsed with a party atmosphere. Live music was playing from two separate outdoor stages in celebration of the day. A pair of musicians (playing the high-pitched zurna and drums) wandered along the main street mixing local dance rhythms into the noise of the crowd. Kebab smoke from the park curled up into the autumn trees. Children with juice-stained mouths were tempted by bright clusters of helium balloons and boxes of neon-coloured stress ball toys (also shaped like pomegranates).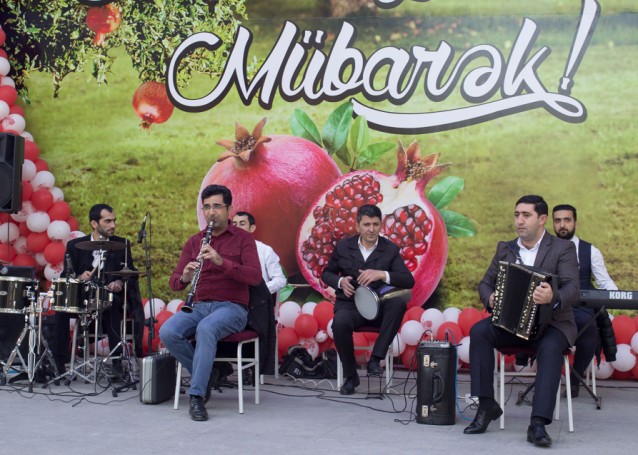 There's a balm in Goychay...
One long street of the festival was lined on both sides by vendors hawking fresh fruit and pomegranate products. They had pears, apples, quince and persimmon as well, but the main attraction was the pomegranates: crate upon crate of them. Azernews says that Goychay growers produce 70 types of the revered fruit, but we mainly saw two main types for sale: gulovshe and veles. Gulovshe, the dark red variety, has a rich taste and the locals prefer it for eating, but veles (a pale pink or yellowish colour) has a thicker skin and it lasts longer before it overripens. Many vendors also sold pomegranates wrapped in plastic and still attached to the twigs they grew on. We were told that these would not start to ripen as long as the twig was attached like an umbilical cord, and they would last for a month or two in that state. They reminded me of caramel apples.
People claim that pomegranates have all kinds of miraculous health benefits. They neutralize high blood pressure, prevent cancer with their antioxidants, improve vision, and normalize digestion. One booth was selling pre-packaged dried bits of pomegranate peels, labelled in English with all kinds of health benefits:
-fights acne, pimples and rashes
-fights against wrinkles and ageing
-cures sore throats and coughs
-fights skin cancer
-arrests hair loss and prevents dandruff

-improves dental hygiene

I was left wondering, is there anything pomegranates can't do?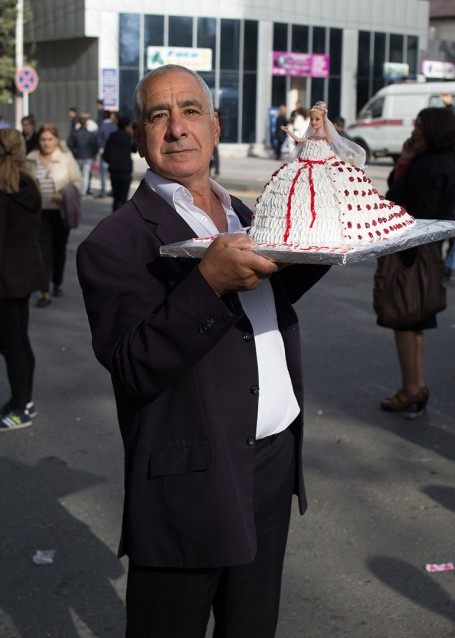 One Goychay native now living in Germany, Rufat Imaniyev, told me he eats two whole pomegranates every day after lunch when he is in Azerbaijan, but he can't find pomegranates in Germany at all. He feels the difference when he's there. But not just physically. He went on to explain that he misses the local culture, the warmth, and even the women:
When I was still living in Azerbaijan I didn't realize this, but there is no other place in the world with as beautiful a culture, climate, cuisine, or – maybe this sounds strange – as beautiful women as here.
Maybe that's part of the lure of the Pomegranate Festival: it's not just about the fruits. You can buy pomegranates and carry them away to eat in colder places, letting the juice gush between your teeth like liquid sunshine, but you can't package up the energy of Goychay and the thousands of people who gather every year to pay homage to their little red native sons. There's magic in Goychay. As Orujali Ganiyev, Chairman of the Executive Authority of the village of Chakhirli, told me, the ground is fertile here. The same tree doesn't do as well in other places.
Green thumbs and red hands
We were in the process of buying a kilo of pomegranates to take back to Baku when I mentioned to the seller that I was writing an article for a magazine. A man's voice boomed from behind me: You should talk to me. I'm the winner of the Largest Pomegranate Contest.
I turned around to find myself eye-level with the chest of a man who may also be the largest pomegranate grower. It turns out that this farmer, Allahverdi Khalilov, has been submitting produce to the contest for three or four years, but finally this year he took first place. His prize pomegranate, of the veles type, weighed in at one kilogram and 30 grams. I asked him how he managed the feat and he explained that pomegranates thrive with a lot of care. I imagined him sneaking out into his garden to whisper to the fruit at night, but he said he just fertilizes the trees well and waters them once every 10 or 12 days.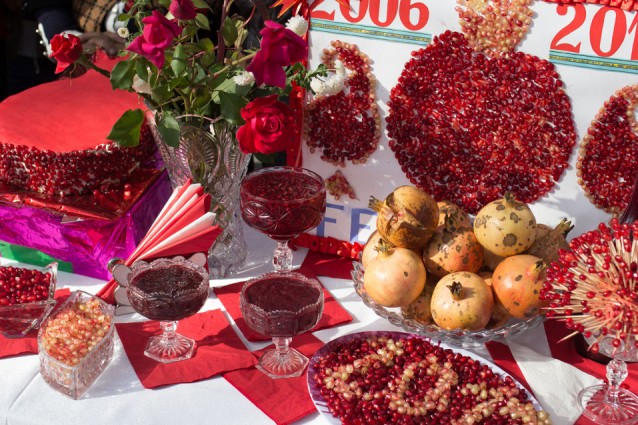 Just out of curiosity, I asked him how many of his handball-sized pomegranates he eats every day.
Five or six, came the reply.
Really? I asked. I must have had my eyebrows especially high because he came down a little.
Well, maybe three or four (... Still!).
Toward the end of the festival, I ventured a risky question to one of the local residents, Vidadi Javadov, who cultivates his own one-hectare orchard: Don't you ever get tired of pomegranates?
Oh, no! – came the shocked reply – Quite the opposite. I really enjoy them.
I tried to ask another vendor (a woman selling freshly-squeezed juice) how she removes the dark stains on her hands after a day of squeezing these blood-red fruits. Before she had the chance to answer, another woman visiting the festival (clearly from Baku, with bleached hair and trendy clothes) piped up behind me: Powdered lemon juice! It washes everything away immediately. But the vendor smirked and shook her head. It just goes away as I work. And why should I care about stained hands anyway?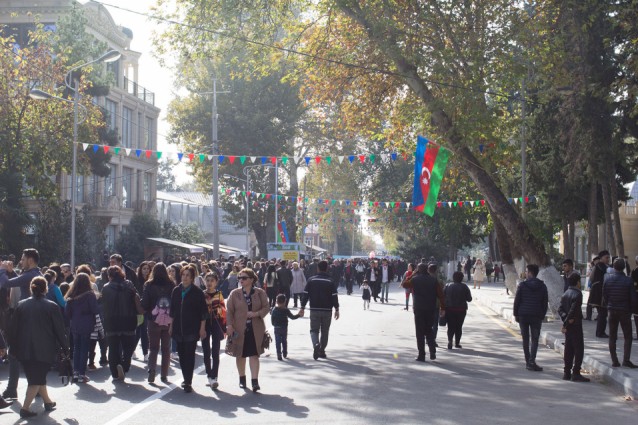 I suppose in this region, having pomegranate stains on your hands is a mark of honour. Here's to all the crimson-handed farmers and their families carrying on a beautiful tradition: long live the pomegranate!