Mostly viewed
Topical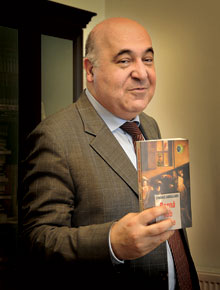 With a phenomenal 190 novels to his name, he is published in 29 languages around the world. As of today, 27.5 million copies of his books have been printed – a record for an Azerbaijani writer.
Many of those books are thrillers, which draw on the author's experience in special operations for the USSR Defence Ministry. Let me introduce him: People's Writer of Azerbaijan, secretary of the Union of Writers, the winner of every literary prize and award going, a favourite with the ladies, the charismatic Chingiz Abdullayev.
Our interview took place on a sad day, the 22nd anniversary of the Khojaly tragedy, when 637 Azerbaijani civilians, fleeing their homes in Nagorno-Karabakh, were slaughtered by Armenian forces.
Last articles