Mostly viewed
Topical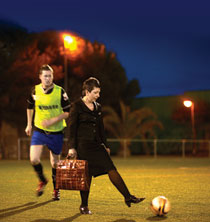 Businesswoman Gulnara Khanbabayeva tells Visions of some unlikely links between Azerbaijan and Spain.
How long is it since you left Azerbaijan?
I left Azerbaijan 31 years ago. Before Spain, I lived in Russia for a long time. And I've been living in Spain with my family for five years now.
How difficult is to live among people of a different culture and traditions and to get used to that environment?
I've never had any problems either in Russia or Spain with regard to language, religion or traditions. I am grateful to my parents for this, because they brought me up in such a way that today I can be friends with anyone, regardless of their faith or background.
Do our two nations – Azerbaijan and Spain – have anything in common in terms of psychology or way of thinking?
Last articles